May 11, 2008
We are completing our final projects and will be ready to leave Almerimar tomorrow. The winds have been very high, up to Force 9 the last few days, but the forecast calls for good conditions tomorrow, Monday, May 12.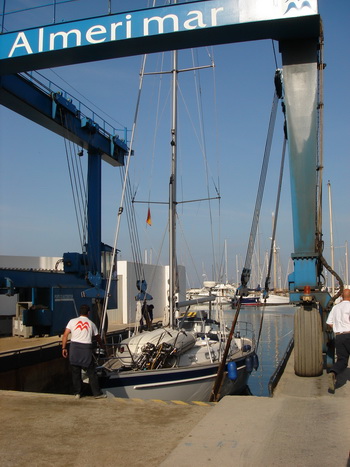 This past week Tenaya came out of the water to have the bottom cleaned and a new coat of anti-fouling paint applied.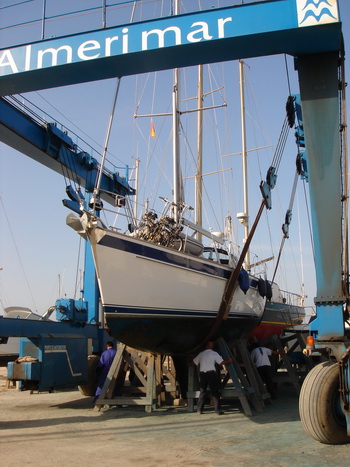 The Almerimar yard is very organized. We arrived at 9 am and the lift promptly hauled us out of the water. Tenaya was settled onto stands where she remained for three days. The first day the crew cleaned the bottom with high pressure spray and painted the first coat.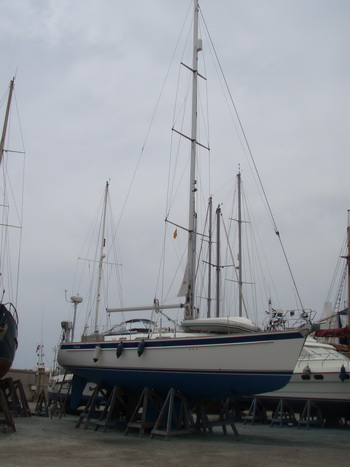 The next day they painted the second coat. We would have been ready to go back in the water but some of our specially ordered anodes had not arrived. From now on we will carry spares for the Isotherm cooling outlet, Gori prop and Lewmar bow thruster.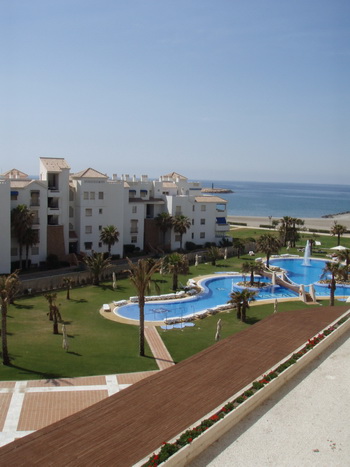 The view from our hotel room balcony.
The high speed wifi at the hotel didn't throw us off like in the marina. Katie's 3 year old Mac could not pick it up in our room but all was perfect in the lobby.
Katie here. I believe that boats are meant to be in water not on land. Living aboard Tenaya in a dry and dusty dirt lot, having to climb a steep ladder with my painfully popping knee and no toilet on board were not my idea of fun. We took a room at the Almerimar Hotel and enjoyed the gigantic swimming pool, extensive breakfast buffet, and a comfortable room. TV, not normally important to us, was a highlight. The only channels in English were news programs but we watched them quite a bit. Never having watched Fox News before we now understand its entertainment value. Think we will stick to Google News for a variety of sources.
.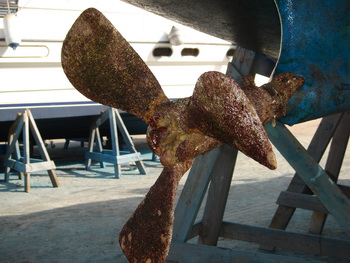 The prop was home to lots of slimy things before it was cleaned. One of the two anodes needed replacing and now it is ready to go.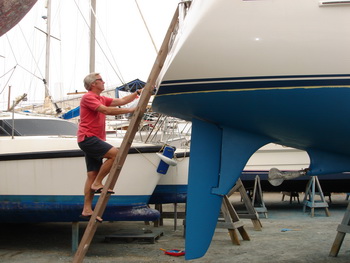 Jim spent a few hours each day in the yard. Chris, one of the employees of the nautical service, was extremely knowlegable and helpful. He was able to identify a mystery noise that had us baffled and had several great ideas to make things easier and more efficient. Jim will go into those on another page.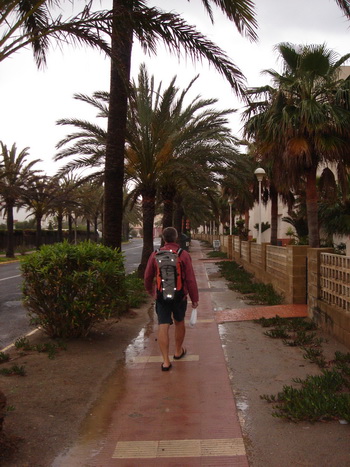 While Jim went to check on Tenaya each day I was happy to swim and read by the pool.
Friday night was the last "Yachties get together" we will attend here this season. We met quite a few nice and interesting people during our time here.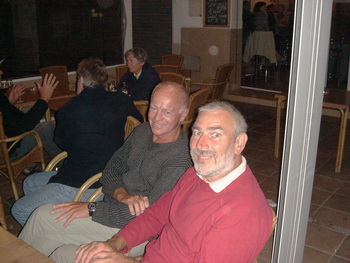 Over beers, the talk was about the weather and cruising plans for this season. Frank, on the left, is off to Brazil with his lovely wife for a rally up the Amazon and Dave and Elaine will either explore the Spanish islands or Northern Africa before turning west to the Canary Islands and then across to the Carribean.
When we decide to cross the Atlantic we will stop here in Almerimar. Marina fees are reasonable, the yard does nice work, there are two good chandleries, a helpful Volvo dealer and a guy that does terrific stainless steel work. The supermarket is very convient, located within the marina complex, and there are 2 laundry facilities. An airport isn't too far away in case a trip to the US is necessary.
We've got our fingers crossed that we will be able to leave tomorrow afternoon. It is 110 miles to our next stop, Cartagena. After exploring the town we plan to sail to Calpe and then on to Formentera, the least built up of the Balearic Islands.
May 12, 2008
Maybe we shouldn't put into print our hopes! Jim went on the radio during this mornings net to say good-bye and it cut out during his transmission. Marco, the radio technician, came over at noon thanks to Bob and Liz on Yanina giving us their appointment with him. He was able to get it working again. Now we hope to be off tomorrow. This afternoon I'll give Tenaya's hull a good cleaning. That job shouldn't lead to any more problems but you just never know...
.