May 4, 2008
"Tis the season for boat projects....
Our goal was to return to Tenaya and within a week or so have all the projects done and be ready to head east. The list of projects was already long and now it seems that each project completed creates two new ones. While checking the main sail I noticed that one of the battens had worn through the webbing closure at the bottom. I was able to sew in a new piece of webbing and now it's perfect again. Too bad that project wasn't on the list!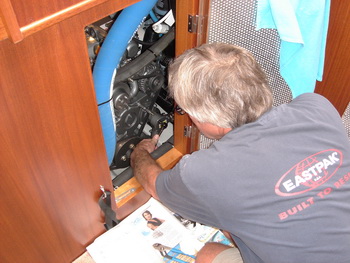 Using our newly acquired knowledge from the diesel mechanic class we took last month we replaced the impeller. The engine still seems to run fine.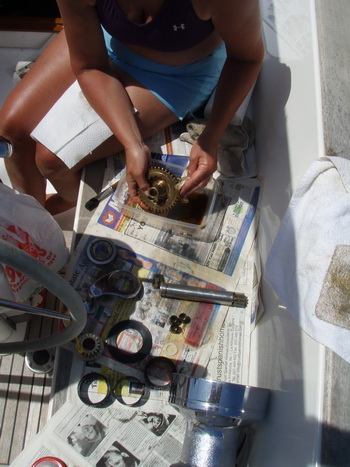 One of our biggest projects was cleaning and servicing the winches. Amanda gave a lesson on how to do it our Mahina trip and Katie took plenty of pictures for reference. This was the first time we tried it ourselves. Like most new things it was a bit daunting at first.
Katie disassembled, cleaned, re-greased and reassembled her first winch. During reassembly she found one extra part and since we didn't know where it should go we thought maybe it was just extra (I remember this happening quite often with I was young and working on my old cars and would always end up with a box of parts left over). She figured it out and it all went back together and worked better than before.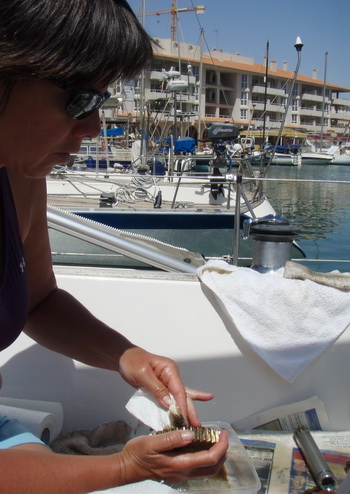 The other three winches went easily and now Katie feels very comfortable taking them apart and putting them back together. Aside from not having pumped enough diesel fuel to easily clean everything and not thinking about applying sunscreen all went well. Ever the cleaning fanatic, Katie is happy to be the winch wench.
.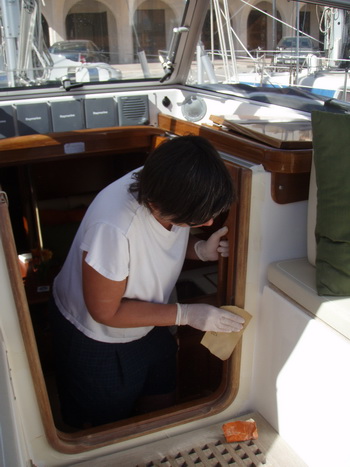 In March Katie started her first varnishing project. Before we left for the US she had sanded the wood around the companionway down and put on 3 coats of varnish, sanding lightly in between. Now it's time to add 3 more coats. It already looks better than it did.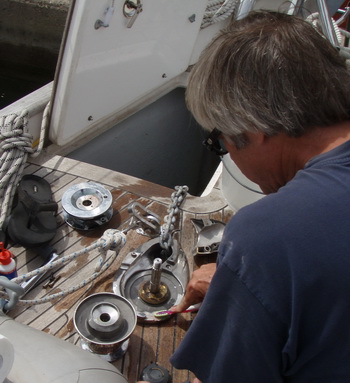 Jim cleaning the anchor windlass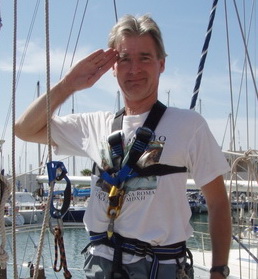 Soon we will be saying good bye to our friends Bob and Liz on Yanina. They are planning to sail the north coast of Africa and then the west coast, possibly to Senegal, before crossing the Atlantic in November.
Bob's book, On The Nose, will be published later this year.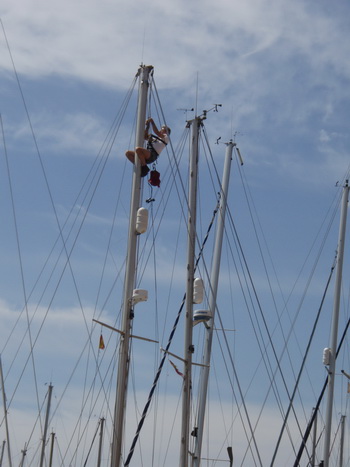 Bob at the top of his mast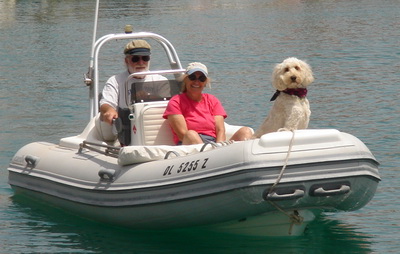 There were only 2 American flagged boats wintering in Almerimar this year. David, Lowie and Danforth (Danny) crossed the Atlantic last summer in their Nordhaven 55, Salty Dawg. Like us they are heading east to Turkey. I'm willing to bet they get there before we do! Check their website: Salty Dawg
Tomorrow, May 5, 2008, we will have Tenaya hauled out of the water, the bottom cleaned and new anti-fouling paint applied. We'll also try to find the source of the chirping noise we heard while motoring last season. The plan is to have her out of the water for 2 days and, if the weather cooperates, start sailing by the end of next week. Stay tuned to see if this actually happens.
.