April 23, 2008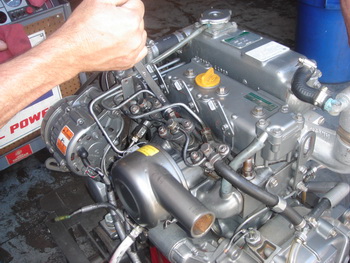 We took an all day diesel engine class at the Boatswain's Locker on April 12. They are the west coast distributor for Yanmar so we were able to work on an engine just like ours. The class, with only 6 students, included hands on experience changing the raw water impeller, adjusting the belts, changing oil and fuel filters, bleeding the fuel system and adjusting the valves. It was an excellent course which we highly recommend. It was offered through the Orange Coast College sailing program in Newport Beach, California.
After our diesel mechanics day we stopped for a lovely evening with Jim's brother Greg and his family at their home in Malibu. He grilled salmon in their yard overlooking the Pacific Ocean. A few sailboats swayed at anchor far below in Paradise Cove. How we wished Tenaya could have been one of them! Our niece, Claire, entertained us with her hilarious videos on You-Tube. It was fun to catch up with Greg and Allison and our visit seemed too short. Sunday morning we were on our way north.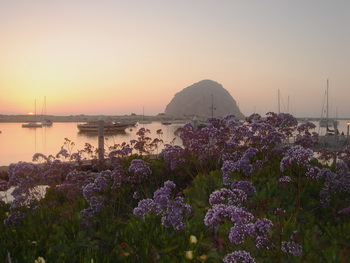 Sunset at Morro Bay
We took a leisurely drive up Highways 101 and 1 along California's Central Coast. We had beautiful weather and unseasonably warm temperatures. The temperature was 99 degrees in Oxnard. Santa Barbara was 91! Very summer-like indeed. Oak trees, green hills and blankets of yellow and purple wildflowers provided and enchanting trip.
We arrived in Morro Bay on Sunday afternoon and spend the rest of the day exploring the charming waterfront area. Seals were playing in the bay, swimming among the sailboats resting on their moorings.
Monday morning we left early and drove about 30 miles to Hearst castle. We took Tour One, the recommended tour for first-time visitors. We both were born and grew up in Southern California but I (Katie) had never been here and Jim was here with his family when he was about 12.
No visit to this area would be complete without a tour of Hearst Castle. Here is one of the guest houses. William Randolph Hearst had this incredible vacation compound built to house his extensive art collection and to entertain interesting, famous friends.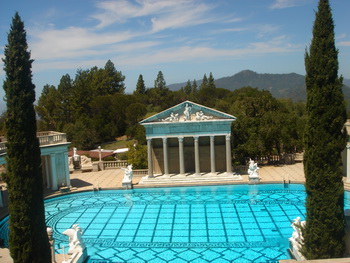 The outdoor Neptune Pool at Hearst Castle. There is also a full sized indoor pool decorated with columns, a diving platform and blue tiles with gold (yes, real gold) designs.
After the tour we continued North along the coast admiring the beautiful and rugged shoreline. Orange poppies, Purple lupine, yellow and white wildflowers and the green hills of spring provided stunning scenery. Occasionally we passed ranches and a few cyclists. There was little traffic.
We stopped in Monterey to see the aquarium and wander along the waterfront and Cannery Row. Because of the long line and high admission price at the aquarium we decided against visiting. We'd both been before. We've tightened the purse strings since Jim retired. Well, kind of ... we had a delicious lunch at a quiet restaurant overlooking the marina. We were entertained by dozens of barking seals and their antics. Those in the water tried, usually unsuccessfully, to hop out of the water and bask in the sun under the dock. Those already on the dock would sit up and block their way. Only one succeeded in securing a spot on the deck during our lunch.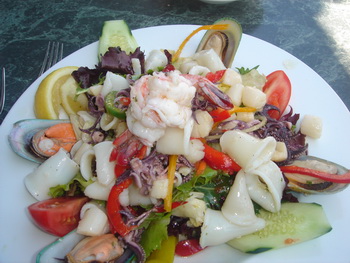 Delicious seafood salad lunch in Monterey.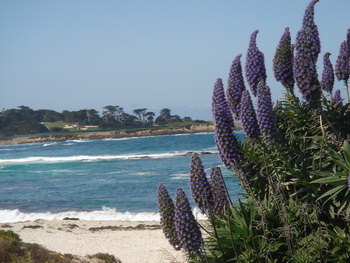 Tuesday night we stayed in Carmel-by-the-Sea. It's a bigger town than Morro Bay but still quaint. It's definitely touristy. That's okay, we're tourists. The next morning we set off for Oakland. We started the day with the popular 17 mile drive just outside Carmel. It wound through gorgeous scenery. Cypress, oak and pine trees and the famous Pebble Beach Golf Course rivaled the rocky shoreline and playful otters for our attention.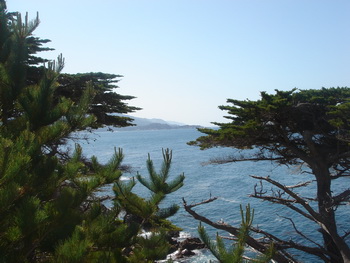 A spot of coastline from the 17 mile .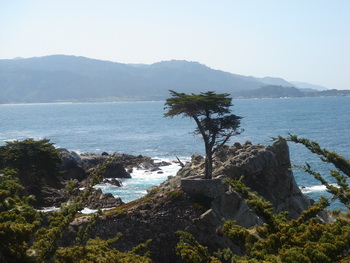 The Lone Cypress is a Monterey Cypress tree. These trees, once near extinction, occur naturally only in this area. They can reach 70 feet (20 meters) and can live 300 years. This particular tree is 250 years old.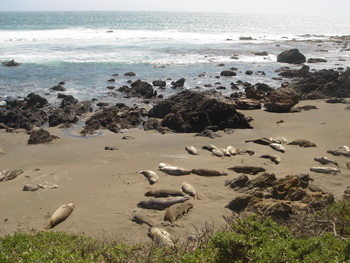 Elephant seals enjoying the sun

One of the reasons we are in the US in April was to attend the Strictly Sail boat show in Oakland, California. I have never been to a boat show and Jim has only attended them in Europe. Time to see one on our home turf. We volunteered to work in the Seven Seas Cruising Association booth. We have found their site quite helpful, especially the discussion forum, and wanted to show our support. We met quite a few kindred spirits, signed up some new members, and had a great time.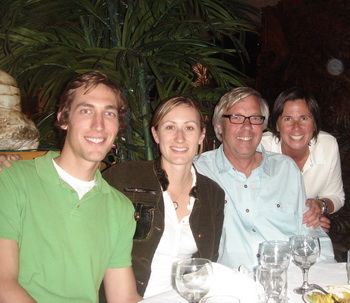 The boat show was fun and informative. We attended a number of seminars, visited manufacturers, bought a couple of things and enjoyed dinners with friends.
Friends we met in Lagos, Portugal, Pam and Andy Wall, were both there giving seminars. We enjoyed a couple of dinners and a breakfast with them in addition to attending their informative and fun seminars. Scott and Amy joined us one evening.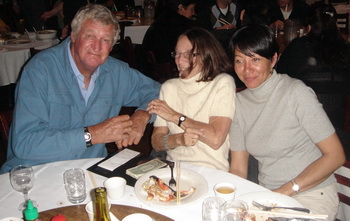 Pam and Andy introduced us to some of their friends. All were very interesting and nice people and had more sailing experience than we do. It is fun for us to hear of others' adventures and how they handle life onboard. We both immediately liked their friends Duncan and Audre (pictured) and Paulette and Chuck.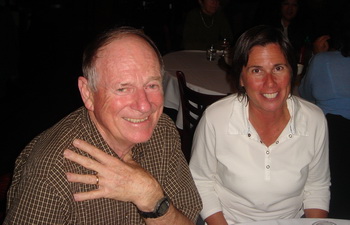 Duncan and Audre have sailed many places on their yacht Matsu and encouraged us to sail to the less visited places. They spent a couple of years in South America and a lot of time in Patagonia. This year they will sail to Alaska. During dinner Duncan gave me some cooking tips and a great recipe for bread.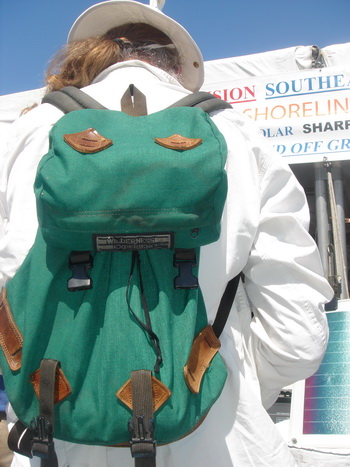 In the 1970s Jim and his brother, Greg, started an outdoor company, Wilderness Experience. They manufactured backpacks, sleeping bags, tents and some of the very first Gore-Tex jackets. The company went public in 1980 but after Jim & Greg left the company the business declined and was taken over by Anthony Industries (K2). Today it is all but gone. Often when Katie sees someone using an old Wilderness Experience product she stops them and takes their picture. This man was trying to shop for boat equipment when she found him. The next day she spotted a woman carrying a different style pack but refrained from bothering her.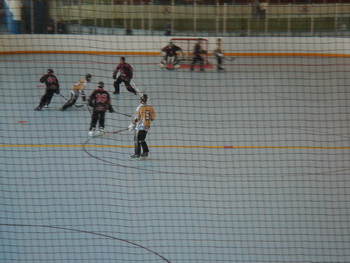 Scott played roller hockey in high school and has started to play again, this time on a local professional team. We watched him play on Saturday night. He played a good game with a goal and an assist. He says we picked a good night to watch!
Scott and Amy in San Francisco near the Embarcadero.
We left Scott and Amy's cozy home in Alamo in the Bay Area Sunday morning. We drove the scenic Routes 88 and 89 across the Sierra mountain range and down 395 to Mammoth. Katie had a dentist appointment Monday morning after which we drove across the desert to our new home base in Boulder City.
The place is completely organized and we achieved all our goals for our 6 week visit to the states. We are ready to fly back to Spain on Friday and get on with our sailing adventure.
Today is Katie's birthday. She had planned to go kayaking on Lake Mead but brisk winds changed her mind. We opted to read by the pool instead. We got our exercise swimming and chasing our clothes and water bottles downwind. After all the activity these last weeks it was nice to have a "down day".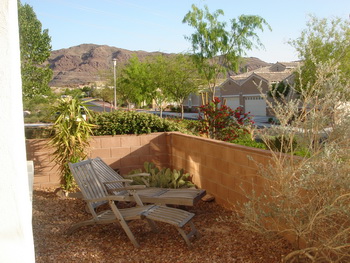 The yard in our Boulder City condo is small but there is a nice community pool for us to use.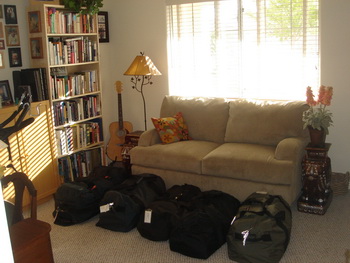 Our bags are packed and we are ready to return to Tenaya.
Our San Diego chapter is over and now we are embarking on a new one. How much time we will spend now on Tenaya will depend only on our own desires. We are excited to see where the future and the winds take us.
Go to May 2008 - Boat Projects