March 20, 2008
It sure was nice to get back to Tenaya! Sunshine and warm weather welcomed us back to Almerimar. So did a shiny, clean boat! Liz had given Tenaya a thorough cleaning, inside and out, and she just glowed.
We had a list of projects to do in the 10 days we were there. We both wanted to do the projects on deck and in the cockpit and neither wanted to do those inside. The warmth of the sunshine on our bare arms and legs was something we couldn't get enough of. Here Jim is replacing the outhaul with a better line that should be easier to handle.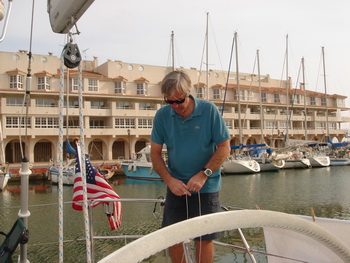 We met Bob and Liz soon after we arrived in October at a yaughties get-together. Their yacht, Yanina, is berthed near Tenaya. They watched over Tenaya while we were away, checking batteries and keeping her clean.
We like this quote from their website and upcoming book On The Nose: " In the Spring of 2004, Bob and Liz set off in their 35' yacht 'Yanina of Bosham' to see how far round the world they could get without sinking, starving or pushing each other overboard. Yanina hasn't sunk, they haven't run out of food yet, and fortunately both Bob and Liz are good swimmers".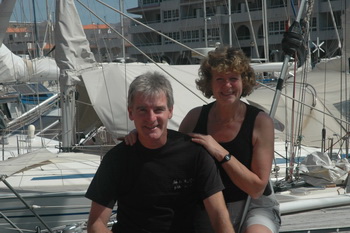 Liz and Bob Buxton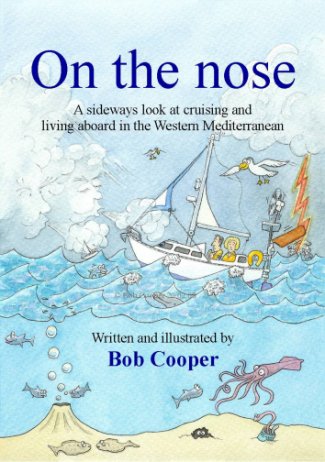 ON THE NOSE is Bob's first book of their journey. He tells stories of sailing, anchoring and visiting towns along the Mediterranean with clever, subtle humor in typical British understated style. The book has been three years in the making and has 150 creative illustrations and hilarious cartoons. Visit their website and see some examples of his work.
We used a cartoon from Bob as our Christmas card last year.
.

There is a yachties get-together and happy hour every Friday night at one of the local pubs. Bob and Liz, on the clarinet and guitar, Dave, Elaine on the squeeze box and tamborine, Dave on the banjo and a few other musical yachties assured we all had a fun time with great music.
We have been in San Diego for a week now. Time is flying as we have so much to do in the 5 weeks we will be in the US. We've been busy preparing our condo in La Mesa to rent out. Fortunately we've found a management team very active in the area to oversee the place. We squeezed in trips to West Marine, Costco and REI and now have quite a pile to take back to Tenaya. I'm thrilled to have found Emergen-C at Costco since it's usually pretty expensive.
One of the best reasons to visit the US is to see family and friends. Last weekend Jim got a call from his brother who was visiting one of their friends in nearby San Clemente. With no hesitation Jim agreed to drive up immediately armed with a few bottles of red wine and his overnight case. He had a great time visiting and catching up. His brother, Greg, has just quit his job. I wonder if Jim's retirement and happy after-work life inspired him a little... That and a nudge from Allison to travel at leisure! The three of them worked together in the Wilderness Experience days and later Jim and Larry were partners in a sales agency. Their friendship has endured 30 years and is still going strong.
Greg, Larry and Jim
Tomorrow we'll meet Jim's kids and their mom at her cabin on the flank of San Gorgonio and spend the Easter Weekend doing projects and enjoying being in the mountains. Next weekend we will drive a U-Haul to Boulder City filled mostly with books we can't part with and lots of framed photos. Following a ski trip to Mammoth we'll take a diesel engine course in Orange County and drive up to the Bay Area to attend the Oakland Boat Show and see Scott and Amy. Then back to Boulder City for a few days before flying out of San Diego. Whew. I'm trying to pace myself.