December 15, 2008
We set sail on December 6 from San Sebastian de la Gomera in the Canary Islands with the plan to sail directly to Barbados, about 2600 miles, in about 21 days.
The first few days were perfect with 15-20 knot winds, small waves, bright moon and everything going smoothly. Then a storm formed to the west with high winds and large waves so we turned to the South to miss the worst of it. The strong breeze followed us and soon we had winds above 25 knots and waves increasing in size.
Sleeping was a bit challenging. The constant rolling back and forth was often interrupted by a feeling of weightlessness as Tenaya dropped off a wave. Luckily we were both able to get enough sleep anyway and neither of us were seasick.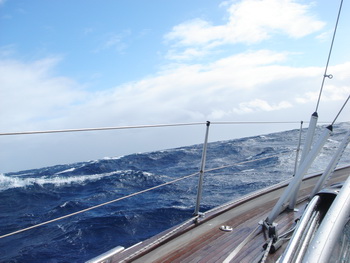 We planned to head South to about 15 degrees of latitude and then turn West to pass the storm on the South side. The winds continued to increase and the waves continued to grow. We decided to roll in our regular jib and hoist the storm jib, a first while actually sailing. It had been raised in a marina once. While rolling in the regular jib, which we have done hundreds of times, we broke the furling drum which made that sail useless. Maybe we could fix it...not at the moment with water gushing over the bow every few seconds, but maybe.....
No, we still had 2000 miles to sail and needed the jib to work correctly. We were less than 200 miles from the Cape Verdes Islands, off the western coast of Africa, so decided to stop there. Unfortunately our position was just a little SW of Sao Vicente, the best island for our needs, so we had to sail into 30-35 kt. winds and 9-14 foot waves.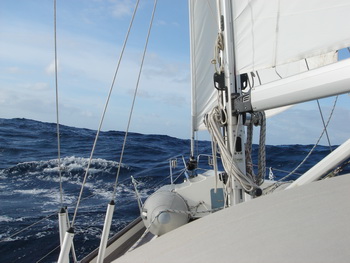 Had we planned to sail directly to the Cape Verdes from the Canaries it would have been about 760 miles and taken 5 days. Our route, going first West, then South and then back North to the islands was 1321 miles and took us 9 days. The adventure has begun!
The roller furling jib assembly had 3 broken parts and replacements could take 5 days by very expensive DHL or 4 weeks by regular delivery. So, with some wire, some tape and a lot of luck we have something that should work for our crossing.
A friend from Holland who has crossed the Atlantic gave us some very good advice and encouragement before we left. One thing he mentioned was to be easy with the equipement. I (Katie) should have listened to him! In my haste to get the jib furled with a few wraps of the sheets I held down the winch button too long and blew the furler apart. Guess that is one of the downsides of electric winches. I would have felt the resistance and stopped cranking had I been doing so by hand and would never have had the strength to break anything. From now on we'll follow Tom's advise more carefully.

.

The Cape Verde Islands are located off the coast of Senegal in Africa. Sao Vicente lies to the NW of the archipelago. Our pilot book says a helpful German sailor has established roots here with charter boats, some chandlery items and a small pontoon capable of holding 10 boats. Jim emailed him from sea to secure a berth and asked about getting parts. He replied immediately and was happy to help noting there was plenty of room to berth.
After beating up the channel between Sao Vicente and Santo Antao at 2600 RPM's and making 3 kts. with an adverse current and waves crashing over the bow and pooling in the cockpit we finally reached Mindelo. How happy we were to find a marina with several pontoons, electricity, a locking gate and wifi! Sleep came very easily in the calm harbor.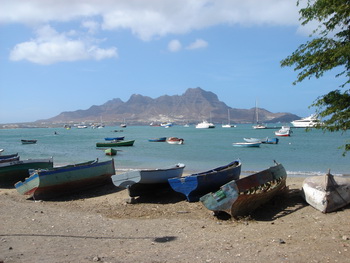 View of the anchorage at Mindelo
Little disturbed by tourism, the atmosphere is definitely different than any place we've yet seen. Mindelo is the second largest city in the mainly undeveloped archipelago and has more of an African feel than Portuguese, the colonial power before independence in 1975. Indeed, most of the population have come from the African mainland. Poverty is obvious but the town is well kept and the people seem to be moving with a purpose. Aside from the many helpful men wanting to guide us for a fee, and the few vendors hawking t-shirts and jewelry outside the marina, we are left to explore in peace.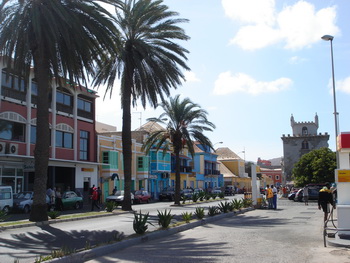 Sights from the main street along the water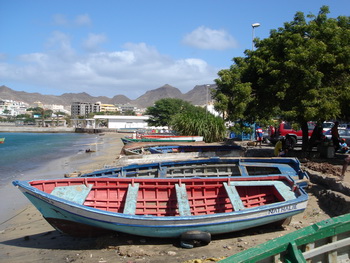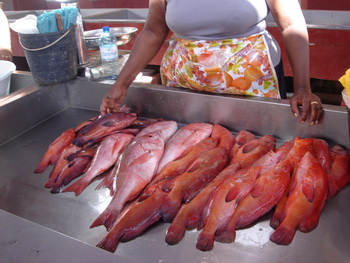 A friendly local gave us a short tour for a few coins. He insisted we see the colorful, busy fish market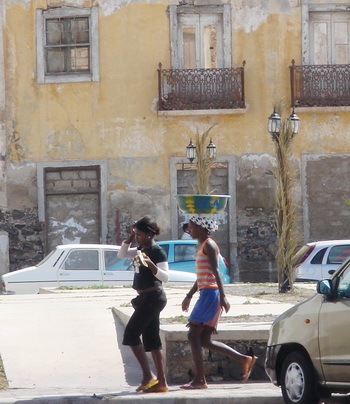 There wasn't really a bush growing from the pot on her head.
Although we had not planned to stop in the Cape Verdes we are pleased to catch a glimpse of another culture and walk the streets of yet another interesting city.
.