October 12, 2008
Two days ago we took the dinghy ashore to Isla Graciosa for the first time. The other two American couples in the anchorage arrived shortly after us. Having been here longer, they told us what they knew of the island and the small town nearby. Kathy was doing a garbage run and we had a bag so we joined her for the 45 minute walk into town. How good the soft sand felt between our toes and how great it felt to stretch our legs after being on Tenaya 9 days.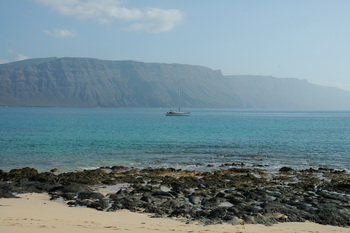 Tenaya at anchor off Grasiosa with Lanzarote in the background
October 8 and 9 brought winds of 20-30 kts. There were 5-6 boats in the anchorage and we all held well except one Danish boat. They dragged past us but fortunately did not grab our chain on their way.
Today we are the only boat in the anchorage. The others have moved on but we are in no hurry. We have nearly two months in the archipelago and this is one of the few undeveloped places. We will stay and enjoy a while longer.
This afternoon we took the dinghy ashore to explore. First we hiked west toward the closest cinder cone. After Jim followed the trail to the top we crossed to the other side of the island and with a big loop ended back where we started. The landscape is starkly pretty, reminiscent of the Owens Valley on the eastern side of California's Sierra Mountain Range. Desert with a strong volcanic influence. Baja also comes to mind with the desert sprawling to the sea.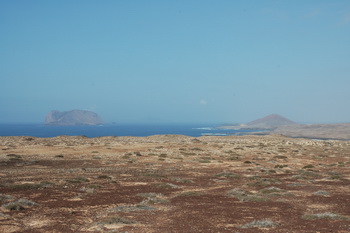 Looking north on the north side of the island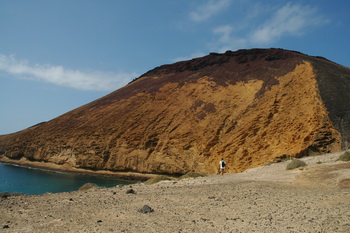 The nearby cinder cone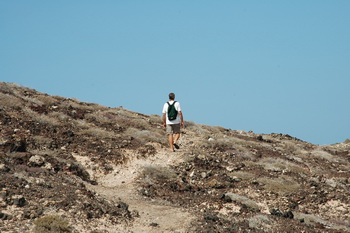 Out exploring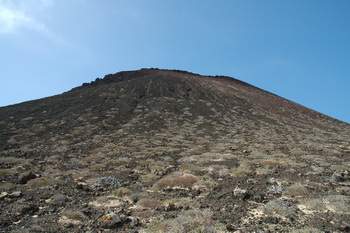 There are four cinder cones on the island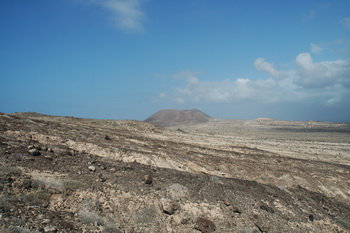 .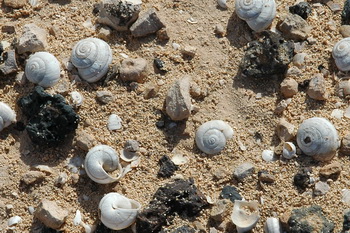 Sea shells and volcanic rocks carpet the sand like a mosaic floor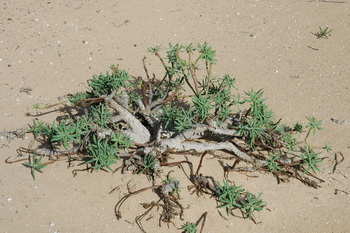 Hearty little plant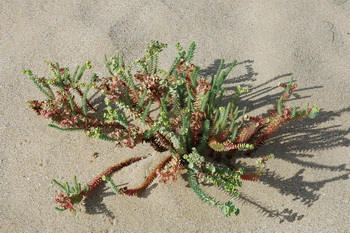 Very pretty flowering plant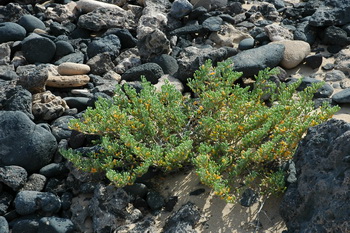 Succulent emerging from the volcanic rocks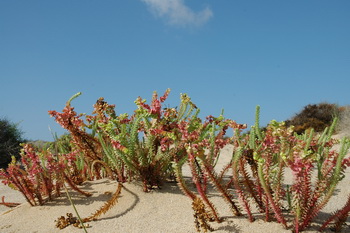 These odd plants are very pretty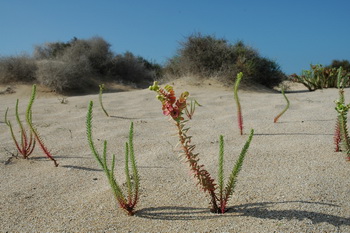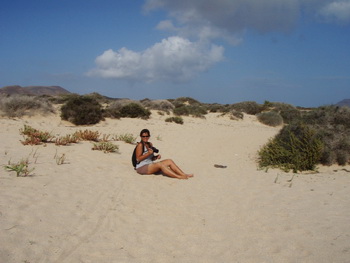 Katie taking some photos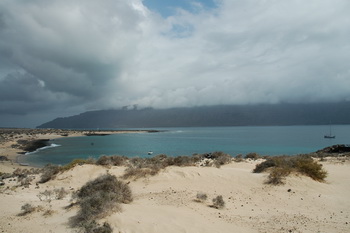 Playa Francesa with Lanzarote in the background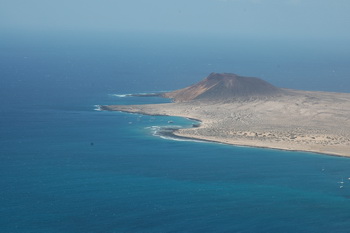 View of Playa Francesa from Lanzarote
.