Departed Brest, France on July 29, 2007 at 3:30 PM.
Arrived La Coruna, Spain on August 1, 2007 at 7:00 AM
400 miles, 65 hours, average speed 6.1 knots
Crossing the Bay of Biscay was a major step for us. Along with its reputation as one of the most dangerous crossings, this was the first multi day trip we have made alone, just the two of us. The crossing gained its reputation in the days of square rigged boats crossing in the fall and winter with much more fierce conditions than are encountered during the summer months.
The weather forecast showed 4-5 days of reasonable weather with no gales forecasted. We had planned to leave on Saturday but the wind was forecast to be 15-20 knots directly on our bow. We have had enough bashing into waves to last a while, so we waited until Sunday when the wind shifted to the west. Favorable at last!
We left the Brest marina at 3:30 pm to ride the outgoing tide as far as possible. The day before had been sunny and nice, but Sunday was rainy and foggy.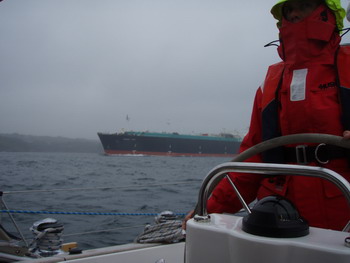 Leaving Brest in the fog and making sure we kept out of the way of big ships.
Besides making sure we ate enough to kept our energy levels up, our biggest concern was to make sure we both got enough sleep to be alert when we were on watch. With only 2 people this is a challenge. Our watch schedule was 3 hours on and 3 hours off during the day, reduced to 2 hours each at night. We didn't stick to it perfectly - if the person on watch felt fine and the other was sleeping soundly we continued on 30, 60 and even 90 minutes longer.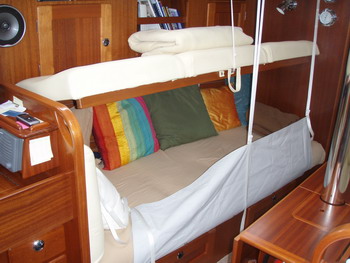 We had a bunk set up in the main salon with a lee cloth. The middle of the boat has the least motion. This turned out to be a very comfortable place to sleep, even when we were bouncing and rolling about. The pillows seemed like a good idea but they flew all around once the wind freshened and were stowed in the forward cabin, out of the way.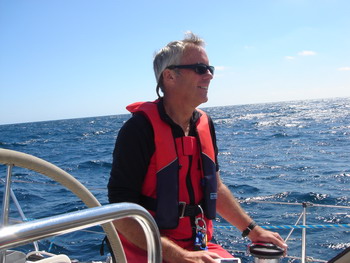 Our second day was perfect! Good winds, sunshine and small waves. The Bay of Biscay was not living up to its fearsome reputation. We read, sitting comfortably in the cockpit on our Bottomsiders cushions, while on watch enjoying the sunshine.
That night brought changes when the wind picked up to the 20 knot range and later into the upper twenties with periods of more than 30 knots. Confused seas accompanied the wind with waves that were steep and coming from a different direction than the swell. Many waves hit us hard on the beam but Tenaya just rolled and took them in stride. Only a handful of times did we get water in the cockpit. We are so thankful we decided upon the center cockpit design and the sturdy, well-built Hallberg-Rassy.
Just moving around in the cabin was difficult while being tossed about. There are a few bruises to remind us! When I (Jim) was trying to sleep it reminded me of being the the Los Angeles Northridge 7.0 Earthquake, except rather than 30 seconds it lasted more than 12 hours.
We wanted to keep the boat speed down so we would not be bashing so hard. Also, we didn't want to arrive in La Coruna too soon because it would be dark. We figured we'd average 5 kts so we'd arrive in the early afternoon. After moving along over 8 kts. for quite a while we put a second reef in the main at midnight. That slowed us for a while but we picked up speed again so we put in a third reef at 4 AM. We were extremely happy to have electric in-mast furling to made reefing and un-reefing the main sail very simple, quick, and safe without either of us leaving the cockpit. After choosing options while Tenaya was being built, we were a little concerned about the vertical battens but we have had no problems whatsoever and feel the added shape increases efficiency.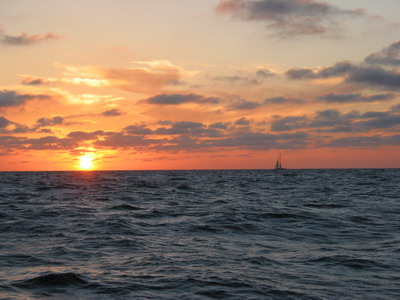 On the third day the wind and waves died down. We motored the last 50 miles. Our plan had been to arrive in the daylight so we wanted to slow down to time to arrive at daybreak. The couple we were traveling in company with was happy to arrive in the dark but decided to slow so we could stay together. As we progressed the heavy mist turned to fog. Our path was crossed by a couple of freighters and a tanker (we know from watching the AIS system) and the fishing boats were out as usual, so we decided it was safer to enter this large, well marked harbor at night than remain exposed in the fog with so many other large ships.
We arrived at the visitor's pontoon at Darsena Marina at 7 AM just as the sun was lighting the sky. Moments after securing the docklines the night watchman arrived and told us we could move to a berth. Katie asked if we could stay there and move the next day. Knowing we were finished, we had let ourselves feel the exhaustion and just wanted to sleep. He agreed and we slept soundly for hours.
Later we saw all the other boats in the marina. Many had bedding and cushions propped on their decks. Obviously salt water had leaked inside. A piece of a wooden spar lay on the pontoon as did a few sails. Again we were happy that we have such a well-built boat. Only a tiny bit of water entered in a galley locker just under a stabroard scupper, seemingly around 2 screws. Didn't ruin a thing as it's the tea shelf and the leaves and bags are all in ziplock bags. The vent in the forward cabin has not leaked again so taping it shut was the answer.
Now we are relaxing and enjoying the sun and sights of La Coruna. It's a pleasant city, very clean and obviously enjoying an economic boom as new building abounds. The beach is nearby, there is a nice bike path out around the peninsula, and there are many neighborhoods to explore. We plan to stay here for a week or so, until Scott and Amy (Jim's son and his girlfriend) arrive next week. Then we'll sail south to some beautiful rias, bays on the Atlantic, to anchor and explore the clear water, caves and beaches and enjoy the sunshine. Their timing is perfect! Finally, one light layer of clothing is plenty.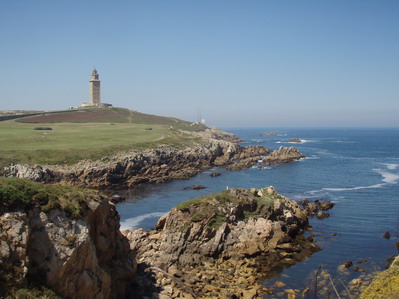 The Tower of Hercules. The oldest continually operating lighthouse in the world, built by the Romans (somewhere inside the current lighthouse is the remains of the Roman one).
.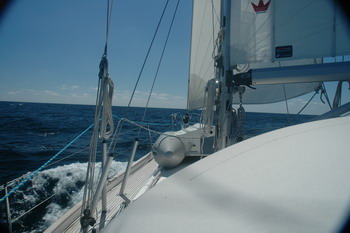 In the Bay of Biscay. La Coruna is still a couple of days away.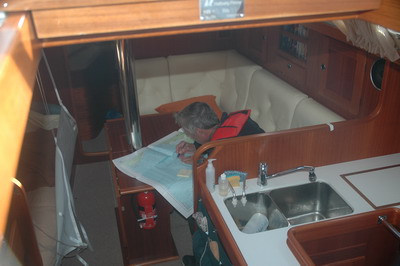 We did log entries every hour with the current position, our direction and speed, weather information and other important facts. Every 4 hours we plotted our position on the paper chart. With electronic equipment this is no longer absolutely necessary but it is prudent. If the chart plotter stops working the chart will be the only information we have about our current position and direction.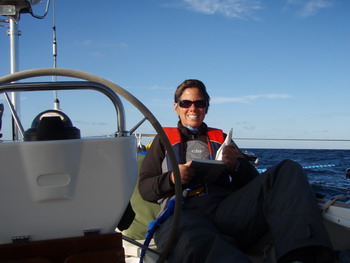 We enjoyed sailing, reading, and watching the dolphins on our one nice day of the passage. This was a tough watch!
The AIS (Automatic Identification System) is fairly new and requires ships over 300 tons to broadcast information that identifies them by name, type, cargo, destination, speed and direction. On our first night we saw a 500 foot long tanker on our screen coming directly for us at about 20 kts. Katie called them by name on the VHF and asked if they saw us. The man on the bridge assured her that they saw us off their port bow and he chatted a little bit, asking what we were doing out there in the middle of the night. She told him we were headed for La Coruna and he said he was going to Bordeaux and then La Coruna and would be there in a few days. She said we'd just be arriving then. He suggested going to a restaurant there and she laughed and said okay. He wished us a nice evening signed out. The ship then changed course to pass our stern by more than a mile. Later he called back and asked Katie for her phone number so they could go to a restaurant in La Coruna. Whether it happens or not, it sure was a nice first experience hailing a tanker.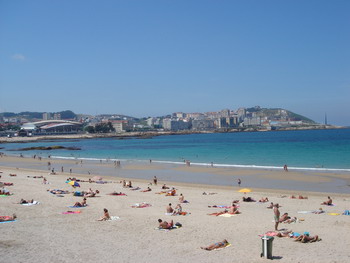 The beach at La Coruna. For the first time since we left San Diego in April there is not a cloud in the sky and the weather is quite warm.
Growing up in Southern California we took for granted the constant sunshine and pleasant weather. After living in Belgium over 5 years and Holland another year we have learned to appreciate those nice days. Especially this year when they have been few and far between. We are looking forward to finally be able to dive off the stern and go for a swim. The water isn't warm here but it's not too cold ... and it's clear and inviting and will be refreshing. We can't wait!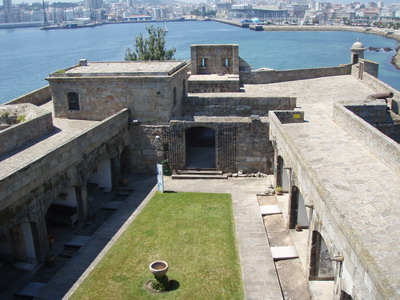 The La Coruna Fortress
Built in the 1500's to protect the settlement of La Coruna and was later converted to a prison - it was a prison until 1960. Today is is an Archaeology Museum.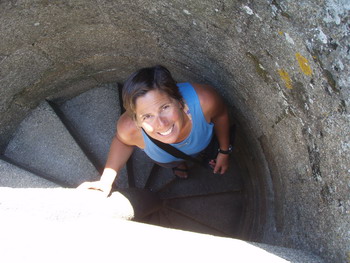 .