This was going to be a long day. 87 miles, our longest single day passage yet. There was almost no wind and the sea was calm. We left Sines at 7 AM, motoring towards Lagos. Usually we try to keep the RPMs between 1600 and 1800 where our fuel mileage is very good; traveling about 6 knots we get 3 - 4 miles per liter. But with the distance we needed to travel, and having no intermittent harbors to stop at, we ran at 2200 - 2400 RPMs. This allowed us to travel over 7 knots at 1.5 to 2 miles per liter. Not good for the wallet or environment so we won't do that often!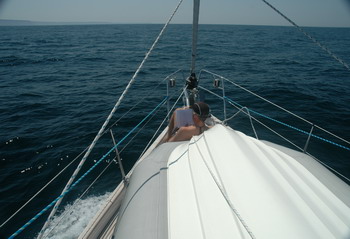 Not much to do when motoring in calm water. Although he thinks he was on look-out, he missed several fish pots and a foam mat with his nose in the book!
The lighthouse as seen before rounding the cape.
After 65 miles we reached Cabo de Sao Vicente (Cape Saint Vincent), Europe's most southwesterly point. The Greeks believed this was where the gods slept. It is named after Saint Vincent of Saragossa, the patron saint of Portugal. He died in 304 AD and in 1173 his dead body drifted ashore at the cape, escorted by two ravens. If his body had been drifting in the Atlantic for 800 years I am not sure how you could tell it was his body, but that's the story.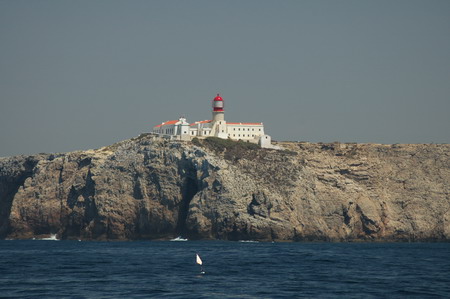 The lighthouse as seen coming into the Algarve.
The Battle of Cape St. Vincent represented 18th century sea warfare on a grand scale. On February 14, 1797 a highly outnumbered British squadron under the command of Sir John Jervis came across the Spanish Fleet near the Cape. In a bold move the English sailed through the middle of the Spanish fleet, dividing it and attacking the middle. One of the British ships was commanded by Commodore Nelson, later to become famous for the Battle of Trafalgar in 1805. He attacked the Spanish admiral's ship, the Santissima Trinidad, said to be the best and largest warship in the world at that time. The British captured 4 ships, killed 261, and wounded 342. In all 5000 were killed, wounded or captured. The British lost only 73 men.
After the Battle the British ships anchored in Lagos bay, our destination.
The lighthouse above the grottos.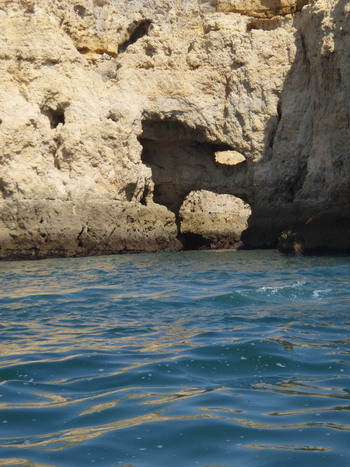 The grottos are spectacular with large holes eroded by the sea creating caves and bridges.
Lagos
Lagos was originally founded by the Phoenicians and Greeks. The Moors controlled it until 1241 until it was recaptured. Lagos was home to the foremost navigation school in Europe and Price Henry the Navigator launched ships that started the Age of Discoveries and put Portugal at the forefront of world exploration. In 1434 Gil Eanes of Lagos was the first to round West Africa's Cape Bojador and others continued to explore and bring back ivory, gold and slaves. In 1444 Lagos hosted the first sale of black Africans as slaves to Europeans and grew into a slave-trading center. Lagos was the beautiful capital of the Algarve from 1576 to 1755, when the earthquake flattened it. Today it's a resort town, full of British tourists and look-alike condo buildings, apartments and hotels.
We have had problems with our Raymarine chart plotter and radar since we left the Netherlands. When we are under sail and turn the radar on the screen starts flickering and eventually turns off the radar. This is a problem because we want to know where ships are around us. Motoring we were fine but we were sailing blind in this regard. Luckily we have had good visibility so it has never become a safety issue.
Not wanting to get stuck somewhere earlier in our voyage, we waited until Lagos to have it checked. There are excellent service capabilities here. One of the repairmen came out, checked everything and found that it was not a battery problem. He thinks it is a problem with a 12v to 12v DC converter that is running at 110% of it's capacity. We have ordered a larger one due in a day or two. Hopefully this solves the problem. If it works will move on to our next stop, an anchorage. It's exciting now that we are heading east. Gibraltar and the entrance to the Med are on the chart we are currently using.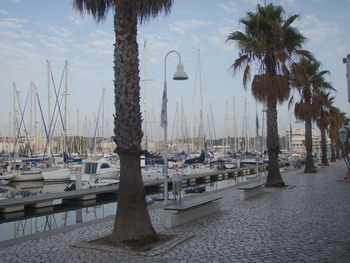 Lagos marina is very nice with good facilities. A row of bars and restaurants lines the promenade. Our favorite is the ice cream counter we visit before taking our evening walk, arming ourselves with cold, delicious cones.
We are still in Lagos. On Friday they replaced the converter supplying power to the chart plotter and radar which seemed to make them work correctly. The chart plotter at the nav. station anyway. The other unit on the chart table outside no longer works. The repairman tried a number of things but being Friday afternoon I think he was ready to quit. He talked a lot about the local bars and their happy hours. I'm pretty sure we'd lost his concentration on our issues at that point. So, off he went in search of a beer or two and now we are waiting until Monday for his return. To complicate it, I noticed last night that one of the lights in the head didn't work. Funny coincidence. Then today neither set of port side cabin lights illuminated when switched on, but the head lights did. Regardless of which port cabin light we switched on, both lights in the head came on. Hmmm....might be connected??? Oh yes, and it seems the AIS doesn't work now. We hope Monday will solve all these issues and we can be on our way. At this point staying in one place more than a week starts to get old and we are ready to move on. Especially now. Loud, bad, karaoke singing and/or live music pour out of the bars nearby until 2:00 AM everyday. At the moment a crowd is singing YMCA. I can't wait to anchor!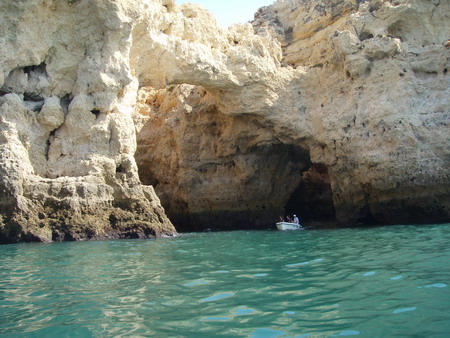 Fishermen take tourists on rides to the grottos. Some even go inside them. What fun! We went close to the caves but did not go inside because of the swell and our lack of experience driving the dinghy.

We plan to leave tomorrow morning at 8:00, when the bridge opens, and sail to an anchorage that sounds peaceful and beautiful. Our electronic issues appear to be solved ... at least during testing at the dock. The repairman replaced the converter and now the voltage levels seem correct, theoretically allowing us to use radar while sailing.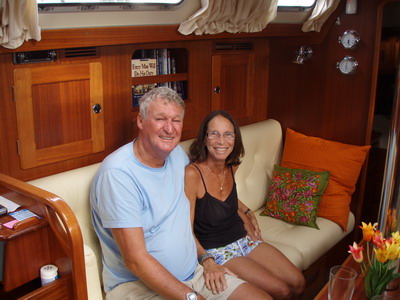 We stayed in Lagos longer than we planned but have been very lucky to meet two wonderful people, Pam and Andy Wall. We talked for hours (including 3 dinners together) about sailing and books. Jim and Andy seem to have read all the same books.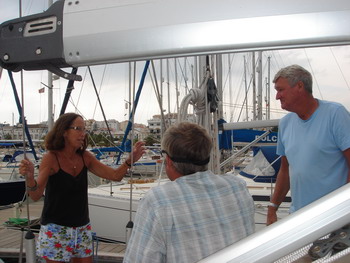 We asked Pam and Andy their opinions of our rigging and equipment.
Pam and Andy have decades of sailing experience and gave us many hints. We loved hearing their stories and adventures, from Andy sailing his own 30 foot boat from Australia around Cape Horn (not just around, but spending 2 months exploring the area) to their 7 year circumnavigation with their two children. We felt fortunate to meet them here in Lagos. We hope to see them again at the Oakland Boat Show next April and attend their seminars. Andy gives rigging seminars and Pam has a vast array of topics related to cruising.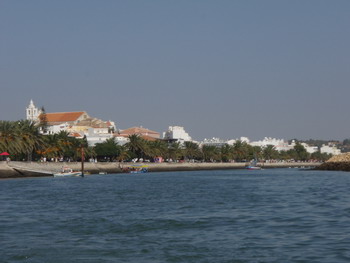 Lagos waterfront, coming up the river to the marina. The main street along the waterfront as well as the marina are lined with palm trees. We are in a warm climate now!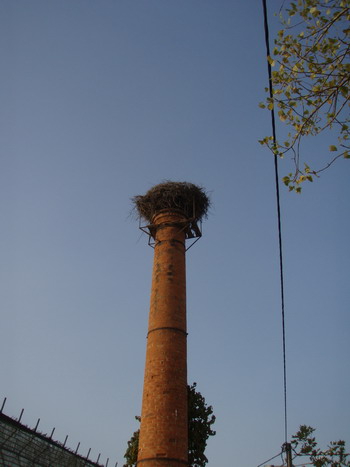 A stork's nest without the stork.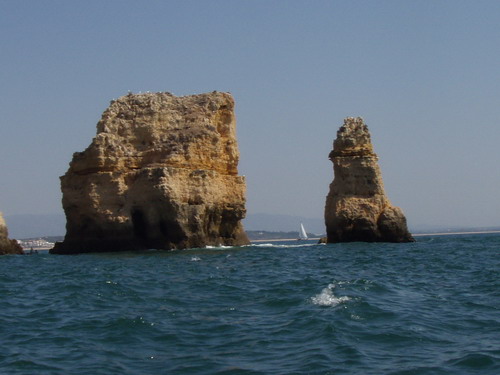 A sailboat just outside the river near the grottos.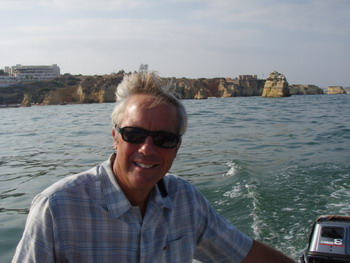 Jim driving the dinghy to the grottos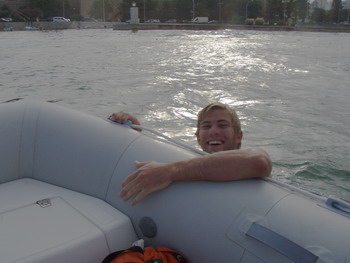 Three local kids wanted a ride across the river.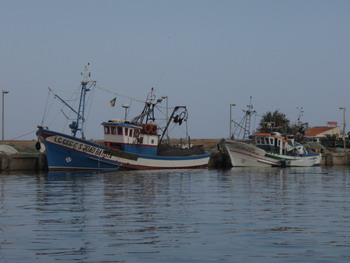 Colorful fishing boats in the harbor.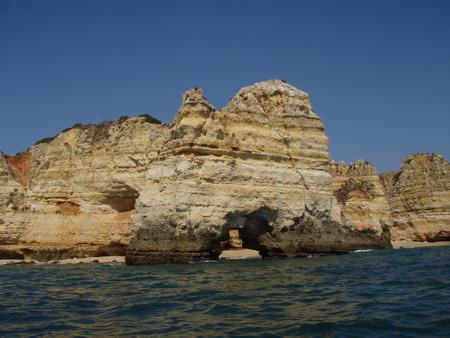 .
The grottos of Lagos are spectacular. We took the dinghy out to them a few times, each visit venturing closer.
When Scott and Amy visited they asked if I was getting bored and thinking about another work project. I realized that I have not even thought about starting something new and am certainly not bored. Over the past few days I have worked with computer problems, outboard engine problems, watermaker, head and plumbing issues, diesel engine maintenance, electrical issues, passage planning and chart work, read a book of Portugal's history, cooked some meals, updated the website and many other things (and there still is a list of things to do)....there is no way I can get bored. There are a lot of new challenges for me and I am learning about many things I knew nothing about. It's been great fun. I imagine that will continue!
Next stops: The Anchorage at Isla da Culatra, Mazagon and Rota