We left Gibraltar with 12-15 knot winds on our beam, just perfect for our 30 mile crossing of the Straits to Morocco. Dan and Lori Lynn had a wonderful sailing experience, including crossing the busiest shipping lanes in the world.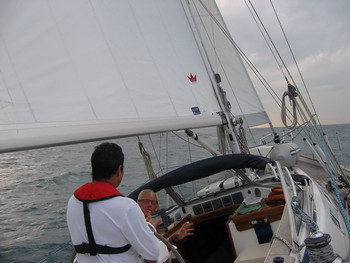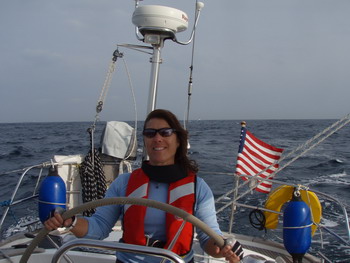 Dan and Lori Lynn both had a good time at the helm.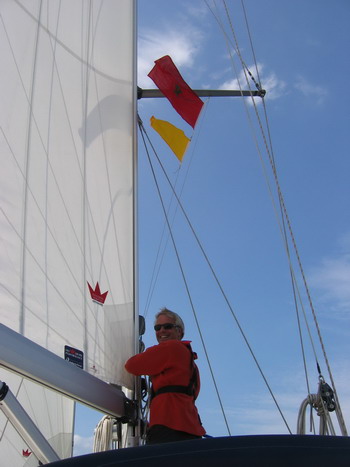 Jim raising the Morocco flag and the yellow quarantine flag to notify the authorities that we are arriving from outside their country.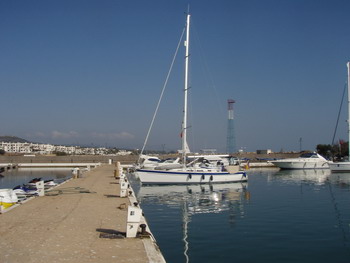 Marina Smir was very nice and not crowded. Actually there were only a few boats there, with room for another 100. The port captain and the entire staff were very helpful and extremely friendly. In fact, everyone we meet in Morocco was friendly and helpful and many spoke excellent English as well as French and Spanish.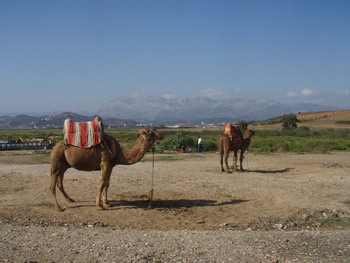 We didn't have the time for a camel ride so that remains on the list of things to do next time.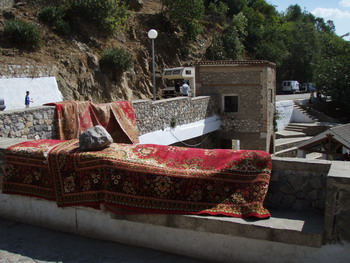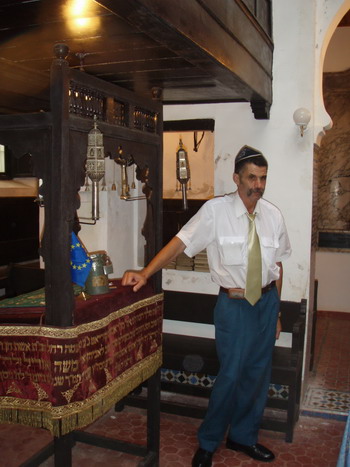 In Tetuan there are 25 mosques and a couple of synagogues. As is customary, non-Muslims are not allowed to enter the mosques but we did visit one synagogue. The town as a sizable population of Jewish and there are three separate cemeteries, one of Muslims, one for Jews and one for Christians.
Dan looking into a higher level in the synagogue.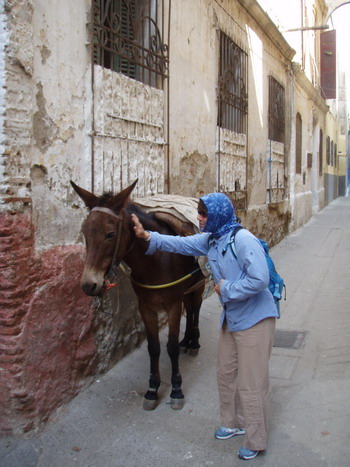 When we visited Tetuan it was market day with men and women from the Berber tribes, still living in the Rif mountains, coming into town and setting up in special sections of the market - men in one area, women in another.
We did not take any pictures of the Berber people with their colorful and distinctive hats. The Berbers are the original people of the area. but their origin remains obscure. In 440 BC, the Greek historian Herodotus described the Berbers as "an exceedingly populous nation". When the Arabs began to move west the Berbers fought hard and retained their independence, but by the 8th century the Arabs finally established a base in Morocco. The Berbers finally did embrace Islam, partly because only Muslims were licensed to trade, but to be fair, the religion's emphasis on social egalitarianism and clan loyalty was very similar to Berber tribal society.
CHEFCHAOUEN (sometimes Chaouen, the original name meaning "peaks".)
Chaouen was founded in 1471 as a base for Riffian Berber tribes to launch attacks on the Portuguese in Cueta. In 1494 the town prospered with the arrival of Muslim and Jewish refugees forced out of Granada by the Spanish Inquisition.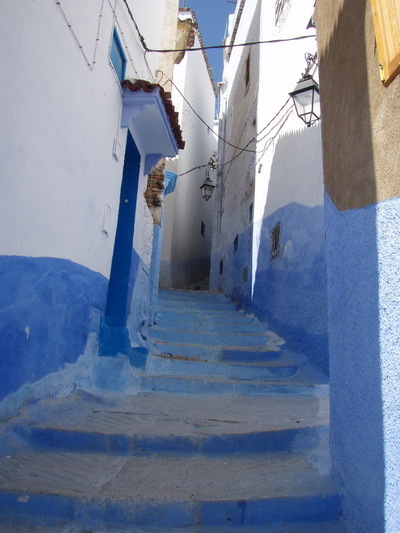 The pale-blue painting of the walls and walkways throughout the medina is fairly new, introduced by Jewish refugees in the 1930's
It was an enjoyable town to visit but with more tourists than Tetuan. Besides normal tourists there were many backpackers who were there for the hashish and marijuana (Lonely Planet guide says, "there's more kif than you can poke a pipe at").
We wished we could have spent more time in Morocco but we had to make it to Malaga for Dan and Lori Lynn's flight back to California. The weather report and the GRIB files said we would have 15-20 knot winds from behind. But we had 5-10 knot winds from directly ahead, so we ended up motoring for 65 miles to Malaga, Spain!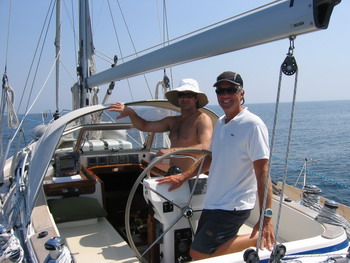 .
Maybe we didn't have the wind, but we had perfect motoring conditions, with a smooth sea. We checked out with the Moroccan police in the morning (there is a police office at the marina, but the policeman was asleep when we knocked...but then we were one of only a couple of boats in the marina) and set our course for Malaga, Spain.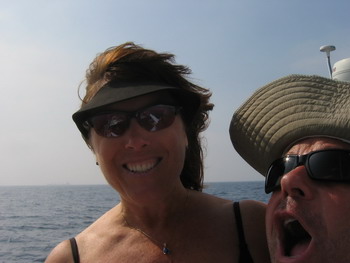 We were motoring at 7+ knots ( I know this wastes a lot of gas, but we wanted to make the 65 mile crossing a quickly as possible) when we saw a large gray boat in the distance coming directly for us. I assumed it was some boat on their way to Gibraltar, but when they got close we saw it was probably a military boat, with a large gun on the deck, but no flags or other identification. They told us to stop and sent a small boat over to us with 3 men in uniforms. They were from the Moroccan Navy and wanted to search our boat. They were actually very nice, going through our papers and doing a fairly complete search of Tenaya, asking if we had weapons or hashish. None of the "boarding party" spoke English very well and the captain of the main ship called me on a mobile phone to apologize for the inconvenience and said they would be as quick as possible. Lori Lynn asked if it was okay to take a picture of them but they said that was not allowed.
Having AIS is really great! As we started our crossing of the shipping lanes it seemed that there were boats everywhere. Twice we were in positions with 3 large ships coming directly at us. Once Dan did call one on VHF to make sure they saw us, but otherwise the AIS system told us exactly what direction they were going and at what speed.
The weather was great, the seas calm and we were visited often by dolphins and we enjoyed our day of motor sailing.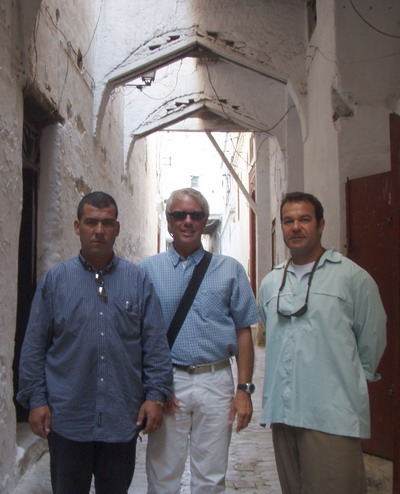 Haled
We were very lucky to find an excellent guide for our time in Morocco. Haled was born in the medina (the oldest section) of Tetuan, a 400 year old town near Marina Smir. Having him as our guide we were able to enter many places that would never be on a normal tourist route. Everyone knew him (he told us, "In Tetuan I am as well known as Coca Cola") and his knowledge of the history of the towns and the people made it a an informative and enjoyable day.
We visited 2 towns with Haled. First Tetuan, not far from Marina Smir and then up into the mountains about 40 miles to Chefchaouen (Chaouen), a 600 year old city. If we had another day we would have visited Tangier.
Dan and Lori Lynn had a flight out of Malaga on September 25 so we had only a couple of days to spend in Morocco but we could have stayed much longer. I hope to return someday with Katie and have time to explore the country and meet more of the friendly Moroccan people. To quote the Lonely Planet Guide, "Moroccans have to be among the most hospitable people in the world".
If you every visit Morocco and Marina Smir (and if possible you should!) contact Haled. He will arrange to take you wherever you wish to go and I guarantee you will have a great day. Call Haled at 00212 72 07 94 39.
Tetuan (spelled Tetouan in Lonely Planet guide)
The medina is a Unesco World Heritage site in the Rif mountains. The area was controlled by Spain at different times, most recently as the capital of the Spanish area from 1912 to 1956. In the 15th and 16th centuries Muslim and Jewish refugees fleeing Spain moved to the area and the town prospered. The town walls were built in the 17th century. Today there are 25 mosques in the old section.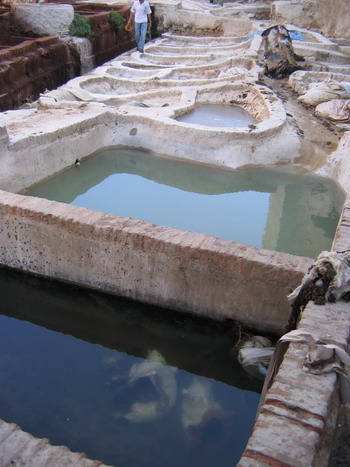 The town is a perfect example of vertical manufacturing capability. Above is the leather tannery where leather is tanned and sometimes dyed in many colors.
The leather is then sold to local workers who make shoes, bags and many other leather items.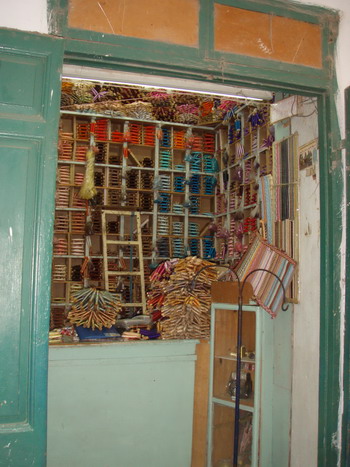 Thread is also spun and dyed and sold to the local workers.
Weaving looms make cloth for clothing.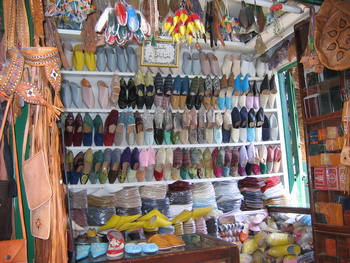 .
Leather is used for shoes and bags.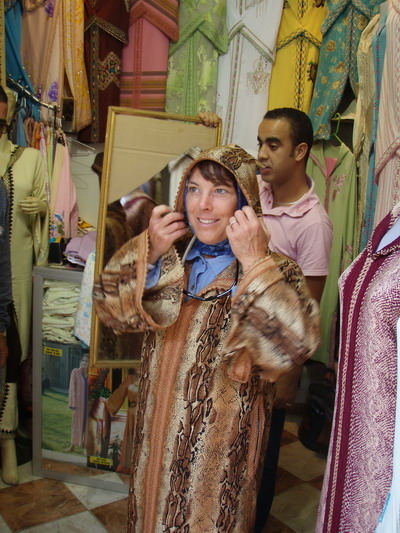 The Jallaba is the standard dress for both men and women. The less expensive ones are made by machine, but the hand made ones are beautiful and the most desired.
Lori Lynn found one that was perfect for her in a small shop. The cost for hand made Jallabas start at about $175 but can reach the $2000 plus range for a custom made one.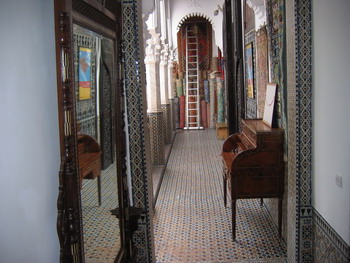 The carpet shop in Tetuan.
No visit to Morocco is complete without a private showing of carpets. We received the royal treatment, even after explaining that I live on a sailboat without much room for a room sized rug. They gave us a tour of the house, cups of mint tea and then a very complete education about different types of construction, with examples of how to tell if it's good wool (burn the threads and smell) and how a good carpet can not be cut with a knife.
They say it is impossible to leave a carpet salesman without buying something. We were sure we would prove this wrong, but finally when Dan got the price down to 1/4 the original price he bought a couple of small carpets.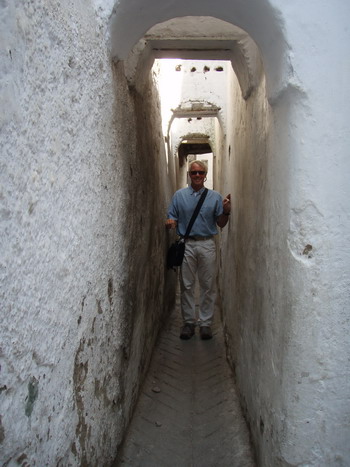 In the medina streets varied from more than 10 feet wide to under 3 feet. Once in the medina you could be lost for days.
Benalmadena, Spain
The marina in Benalmadena is huge, 1500+ boats, but completely full. When we arrived we were told we could only stay one night. Dan and Lori Lynn were flying out of Malaga, close to the marina, early on the 25th and Katie's return flight from San Diego wa scheduled to arrive in Malaga, so I really didn't want to move the next day.
The town is a full tourist destination, almost a Disneyland, with rows of bars, restaurants and discos. It seemed it was mostly English tourists, with hundreds of condos and beaches designed for tourists (umbrellas and drink service).
I talked with the manager on Monday morning and it seems I can stay a few days if I check in each morning and move if necessary. It's OK so far and I hope I can stay until Katie returns.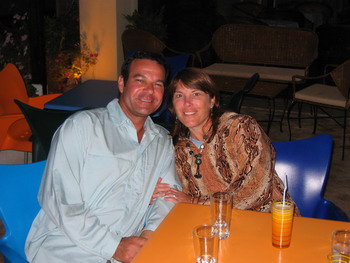 We had a nice last meal. Having Dan and Lori Lynn aboard Tenaya was a great experience. Besides being wonderful people and easy to get along with, they learned quickly and helped so much. I will miss their good humor (and their help when docking!).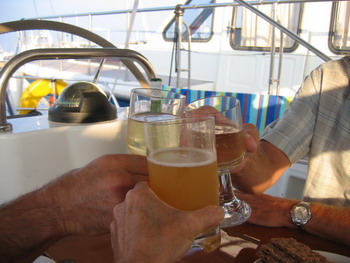 A final toast and they returned to the USA early the next morning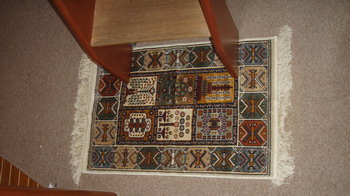 Dan and Lori Lynn bought TENAYA a present! Now there is a beautiful Moroccan carpet at the base of the stairs.
September Part Five: Almerimar Marina