We have been in one location for a month now and it feels a little strange. Although we were in one marina all last year we went out sailing most days and would sometimes anchor in other areas. Being our first year sailing each day brought new experiences, excitement and often times plenty of apprehension. Now we have some miles of travel behind us and have adjusted to moving forward. Since arriving here in Almerimar the first of October Tenaya has not budged. We had one trip planned, to sail 35 miles to a beautiful, secluded anchorage east of here, a nook in the cliffs on the east side of Cabo de Gata, a natural preserve. No roads lead to this particular stretch of coastline so the picturesque coves with sandy beaches are only accessible by boat. We've been waiting for the necessary forecast of a west wind to visit. Finally one was predicted for Monday and Tuesday. Perfect timing as we have Spanish lessons at 6:30 pm Tuesday. We could be back by then. After dinner Sunday night we prepared Tenaya to leave. Folded down the bimini (our sun shade), unplugged the electric cord, filled the water tank and put away extra things on deck. The grib files the next morning showed the wind continuing from the west and freshening. Another forecast predicted rain. Maybe we are getting soft but we decided that we did not want to sail that distance only to arrive late in the day with possible rain and have to leave first thing in the morning to sail in 25+ knots on the nose back to our berth. So we are watching the weather for a longer window to try again.
What have we been doing here for a month? Not much! LOTS of reading. We have met some really nice people, gone to a couple of yottie's happy hours, Jim played boules one afternoon (that game where you try to roll your heavy steel ball closest to a small ball) and we have taken many walks along the beach and around the resort.
One day last week a friend Jim knew from Eastpak and Kipling came to visit us. Patrick lives in Andalucia and travels the area selling the many fine brands his agency represents (including Crocs!) Jim always liked talking with him when he had the chance and was so happy when Patrick contacted him and came to visit. What a nice person he is! He showed us pictures from an anchorage he, his family and friends visited last July in the Balearics that looks fantastic. Again, no road access so only boats can visit. Clear water, few boats and people - sounds ideal for the busy season! The mud baths will definitely be on the itinerary....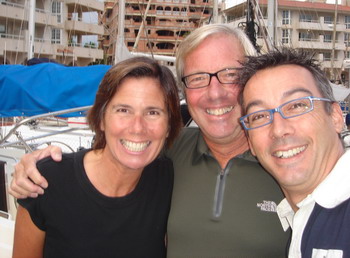 There is a long list of projects to be completed on Tenaya but since we have until next spring I am content to complete one a day. Twice a week we take Spanish lessons for an hour each day. Both of us are taking this very seriously and spend time everyday practicing and doing our homework. We are supplementing the course with our book "Spanish in 10 minutes a Day" and a CD of beginning Spanish lessons from Rosetta Stone. Both are very well done.
We are also thinking a lot about next year and where we want to go. East, we know, but how far and where to visit? One thought is to go all the way to Greece and Turkey, spending next winter in Turkey. There are a couple of popular marinas where many yachts spend the winter and there are large live-aboard communities. The water is beautiful, clear and warm and they sound like ideal places to be based.
But we are not in any rush to get anywhere. We want to have plenty of time to explore many towns, villages, anchorages and islands in the Mediterranean. If we find a place we really like we want to be able to stay and enjoy it for a while.
Our current plan is to visit the Spanish Islas Baleares islands of Menorca, Formentera, Ibiza and Mallorca then continue to the Spanish coast around Barcelona and follow the coast north to France and around the Golfe du Lion. We have friends we'd like to visit while in that area, Jim and Inneke in Villefranche-sur-mer and Kostia in Monaco. We would then continue to the islands of Corsica and Sardinia, loop them, then follow the west coast of Italy south to Sicily. We could spend the winter somewhere along the coast of Italy (maybe Gaeta, between Naples and Rome) or in Tunisia. Of course if it all becomes too crowded and overwhelming we might just head east as far as we can go.... Then again, the winds might stop us anywhere along the route and if we like the area we just might stay.
We have many of the pilots for this area and have ordered those we don't have. We still need to purchase charts, both paper and electronic.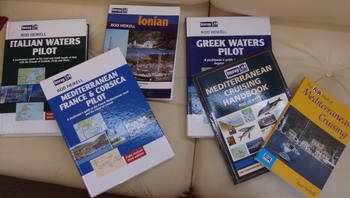 One of the things that all these pilot books have in common is that they were written by the same person, Rod Heikell. We were lucky to have the chance to meet Rod and his wife Lu when SKYLAX, a Warwick Cardinal 46, stopped in Almerimar on their way west to the Caribbean. Our mutual friends, Bob and Liz on Yanina, introduced us at a yottie's happy hour.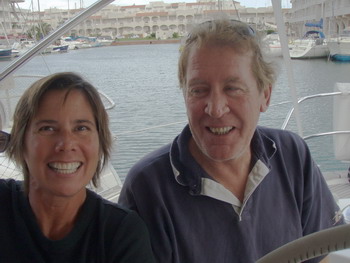 Over dinner and later on Tenaya we took advantage of his knowledge and opinions to help us decide where our travels might take us next year. He had many good suggestions for marinas, anchorages, etc, but the best advice was to just take it as it comes. If we like a place stay as long as we want and don't have any set plans that we need to be somewhere at a certain time. "Remember, this is supposed to be fun!" he reminded us a couple of times.
Rod and Lu's humor and their obvious enjoyment of life, sailing, and the Mediterranean was such a pleasure. We hope our paths cross again, somewhere, sometime.
Visit Rod's website, one of the most enjoyable sailing sites I've seen, with great stories and many very helpful ideas along with logs of his travels and pieces on his philosophy:
Tell-Tales: Rod Heikell's very informal site on sailing around bits of the world and an eclectic collection of things nautical or nearly so.
.