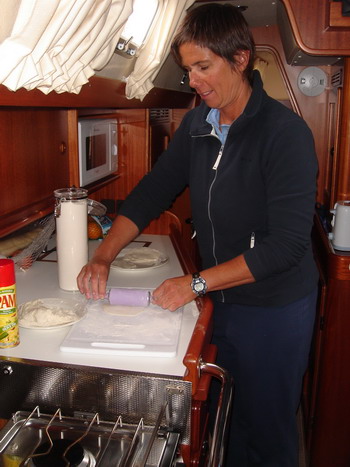 Most of our meals aboard have been Asian style, cooked in a wok with Jim having a great time making different meals. Last year we missed our other favorite food, Mexican Tortillas need to be made from scratch for the best flavor. The store-bought ones available in Holland just don't cut it. Over the winter we found this great little rolling pin. It might be for children but so far it works fine. Our first attempts were tortillas that were small and not very round, but the taste was great. We made plenty for dinner and had enough left over to heat up with for a mid-morning snack. Now, after a few more tries, they are looking better and still tasting yummy.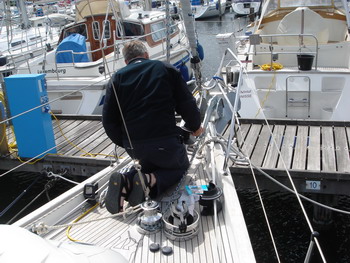 One day we had a problem opening our jib when the furling line becoming twisted around the head stay. The theory of a furling system for the jib is very simple - as the sail is unwound from the forestay a line is wound around a drum. When you want to roll up the jib you just pull that line and it unwinds off the drum and the sail is wound tightly around the stay. Simple.
Since I had to take it apart anyway to see why it did not work I also decided to do the yearly maintenance of greasing the ball bearings. Taking it apart is not that hard, except any slip and a bolt or some other important part goes into the water. The instructions made it sound simple - remove some bolts and the cover, apply grease, put the cover back on and replace the bolts. I did that and it looked perfect, but it would no longer turn. So I took it apart again and reassembled it. Still it didn't work. I tried about 5 more times and it still would not work. I went to the yacht repair service in the marina, willing to pay to have someone else make it work, but they had no time this week and it was late so I gave up and had a beer. The next morning I read the installation manual, covering how to install this system for the first time and found that there are two small holes that the bolts must line up with. By tightening and loosening the jib halyard I was able to get the holes to line up and put it back together. Then it worked fine.
Norway
The last several days we have been planning for our upcoming trip aboard Mahina Tiare III. John Neal and his wife Amanda Swan Neal run the Mahina Expeditions offshore cruising training program. 2007 is the 18th year they have conducted sail training expeditions sailing a total of 180,000 miles during expeditions (That's 6 times around the world!)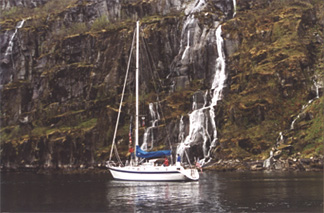 Trollfjorden, Lofoten Islands (From the Mahina Expeditions website the last time they did the Norway trip in 2001)
Later this week we will meet them in Ellos, Sweden, at the Hallberg-Rassy boat yard. Mahina Tiare III is a Hallberg-Rassy 46 similar to Tenaya but quite a bit larger. The trip starts with a 300 mile offshore passage to Stavanger, Norway, then north of the Arctic Circle to the isolated Lofoten Islands and then on to Tromso, about 200 miles north of the Arctic Circle. The total distance will be about 1300 miles over 21 days.
We are excited to receive some offshore experience and learn everything we can from John and Amanda. Exploring the coast of Norway by boat should be a fantastic experience and we can't wait to see the incredible scenery, wander the small towns and experience a bit of Norwegian culture. Katie is looking forward to seeing Puffins and the other coastal birds. We are pleased that John and Amanda have this learning option for us - it's absolutely perfect for the stage we are at in our sailing. We are very thankful for the opportunity to participate.
During this trip we will not have access to a computer or email. When we return mid-June I am sure we will have lots of pictures and stories. Until then, fair winds.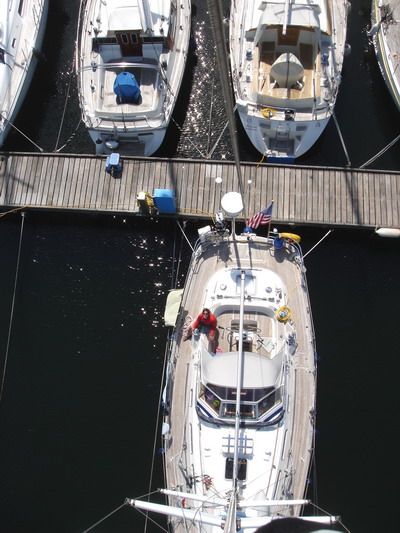 A bird's eye view of Katie and Tenaya
.

Over the winter I passed the exams to obtain a HAM radio license and we had a ICOM 802 Single Side Band radio installed. This now allows us to send and receive emails over the Amateur Radio bands when we do not have internet access. It will also allow us to participate in conversations with other cruisers.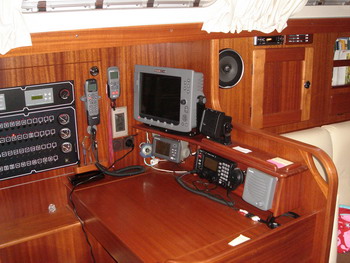 The other very cool system we added is AIS. All large ships are now required to broadcast information about their direction, speed, what type of ship they are and a direct VHF phone number. Since our travels this year will cover some of the busiest shipping channels in the world it will be great to see who is around us and what direction they are headed and to call them directly if it looks like we may be too close for comfort.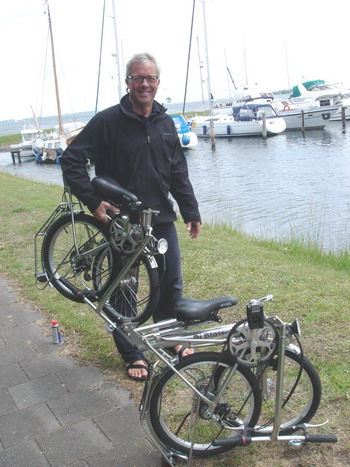 We purchased Di Blasi folding bikes last year and they have proved to be a good investment - fun to ride and important when we need to buy groceries. They fold up easily into a small package and can be carried or stowed in our forward berth when we are sailing. At least the salesman told us they were easy to fold up. Today it took us a number of tries as well as help and encouragement from other people walking by before they were finally done correctly. We took pictures to remind us how they compress for next time.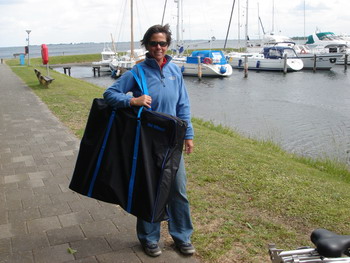 After the bike is folded it goes into a nice carrying bag.
.
Read about our trip to Norway: