Latest News
Winter 2006-2007
The winter in California has gone by quickly it seems and now we are almost ready to return to Tenaya. I didn't finish my RYA Yachtmaster Ocean/Celestial Navigation course, but will continue to work on it. I did obtain my HAM radio General license (KI6HLF), Katie and I completed an Emergency First Aid course. We were both Certified as SCUBA Open Water divers and are looking forward to diving in the warm clear waters of the Mediterranean.
I was also able to see both my kids in their new homes. We went to Seattle and had a nice time with Corinne and her boyfriend Eric (including a visit up the Space Needle). We drove to Scott and Amy's new home in Lafayette, near Oakland. Their home, surrounded by trees and with a great view, is in a beautiful and quiet setting, with visits from 4 deer each morning and evening. We only skied a few days, but had a lot of fun anyway.
During our visit to Seattle we attended a MAHINA EXPEDITIONS Offshore Cruising Seminar. It was quite informative and we received a comprehensive preparation guide for cruising. John and Amanda are interesting and knowledgeable speakers and we thoroughly enjoyed the day.
Their company, MAHINA EXPEDITIONS offers sail training expeditions around the world on their boat, Mahina Tiare III. They have been doing this for 18 years and have sailed a total of 180,000 miles during these training expeditions. Mahina Tiare III is a Hallberg-Rassy 46, very similar to Tenaya just bigger. John Neal is a leading expert on "Choosing a Cruising Sailboat" and his website was one of our early research sites and his views had a major influence on our decision to purchase a Hallberg-Rassy boat.
We were familiar with their expeditions from their website, their many articles in sailing magazines and from others who had attended a training expedition (Karolina from REGINA). After attending the seminar and then talking with John at dinner we decided to sign up for an expedition. We will leave from Ellos, Sweden (where Hallberg-Rassy boats are built and Mahina Tiare II is spending this winter) and sail 1300 miles north along the Norway coast for 21 days, sailing north of the Arctic Circle to the isolated Lofoten Islands and then to Tromso.
We plan to sail Tenaya to Antwerp and leave her there while we fly from Brussels to Ellos on May 17 and then back on June 9. Then we will begin our trip toward the Mediterranean.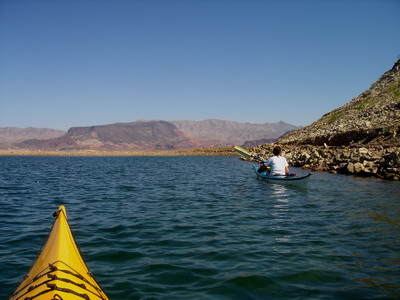 Enjoying the nice day (91 degrees F) on Lake Mead, Nevada
18 March, 2007
.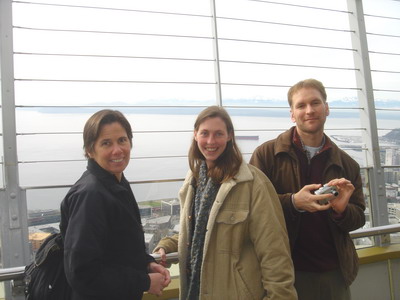 Katie, Corinne and Eric on the Top of the Space Needle in Seattle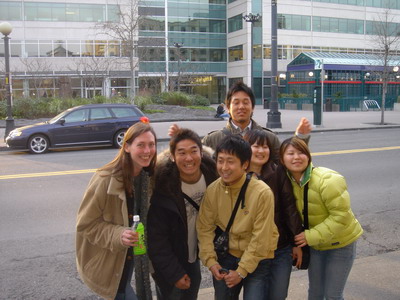 Corinne with some of her English Language students we meet while walking around Seattle
Katie, Amy and Scott in their home in Lafayette, California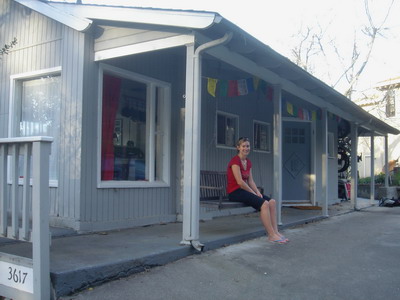 Amy, sitting on their front porch under Prayer Flags she brought from Nepal
.