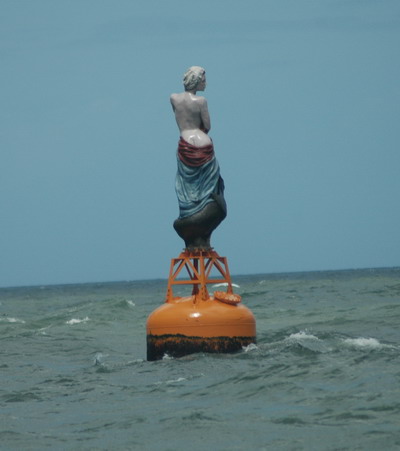 Just a wee bit off our course into Dunkerque was this interesting buoy. Is she a maiden or a mermaid? We can't tell. She is the work of a French artist,Leopold de Frankowiak.
After another day of 15-20 knot winds directly on the bow and waves that kept spraying and occasionally soaking us we arrived in Dunkerque, France early in the afternoon. The first order of business was to dry out all the pillows, cushions, bedding and some things from inside the vented lockers that got wet when the air vent in the forward berth let in a lot of water. I (Katie) thought I was being so clever by stuffing a small towel up into the opening to stop the little water that had trickled in yesterday. I guess I opened it up because way more water got in today than yesterday. Woops. We took apart the vent and taped it shut so it shouldn't happen again. Luckily it was a warm and windy day so things dried quickly, and I was able to do a load of laundry to get the salt out of everything washable. We definitely looked like hobos with the dingy's bow hoisted above the deck to allow air to flow in and things draped off the boom, piled in the cockpit and hanging from all the lifelines. Not a nice presentation to say the harbormaster hoisted the American flag in our honor. Tomorrow we will give Tenaya a good washing and she will be presentable again. I think we will do the same for ourselves now.
We are lucky Tenaya is such a strong, well-built yacht. The trip from Dunkerque to Boulogne was, again, into the wind, with 2-3 meter waves, enough to keep us damp from the spray. After 8 hours (47 miles) we arrived in Boulogne. We rolled out the main for a while but only to steady us in the waves. Nearly 200 miles with the engine running. Will we ever sail? Isn't this a sailing yacht? We still have some water coming in the forward cabin with some water around the hatch. It must be where the saltwater is entering. We'll have to have a look at it.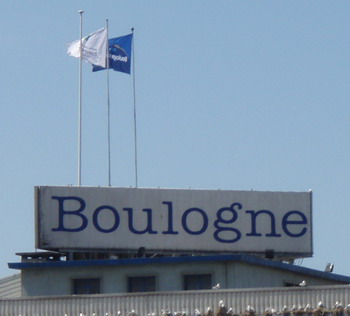 The harbormaster told us we were the second American flagged boat he's seen in the 3 years he has worked at the marina.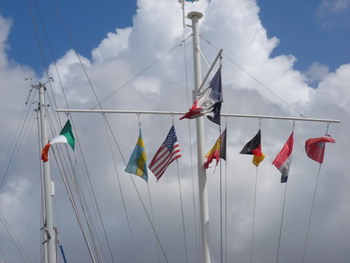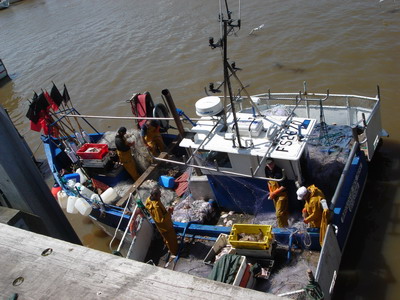 Right across from the yacht harbor are all the local fishing boats. They go and fill their nets, then return and load directly into the back of their stores.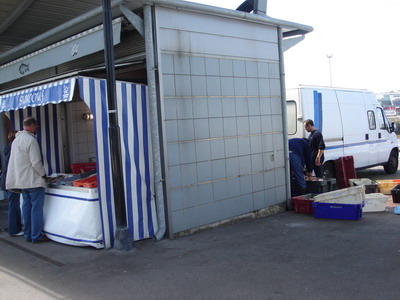 This was a great day! Finally we were able to sail! The wind was 60 degrees off the bow, 15-20 kts. At last ... no motor, just reefed sails and sunshine. From Boulogne to Dieppe we were close hauled on a single tack at speeds of 6-8 knots for 44 miles.
I think we may have fixed the leak in the vent in the forward cabin. We taped it closed and then taped all around it. When we are at a good point we will silicone it shut for good. Another HR owner recommended that solution and we are thankful to him.
We still have a little water coming down the pole and into the table in the main cabin. We thought our dealer had fixed it last year after some torrential rains in Holland as it didn't happen again, but in the last few days it is leaking again with water dripping down into the table and making our cloth napkins and coasters damp. Guess I'd better do some rearranging.
Sailing at last!
Our 57 mile trip from Dieppe to La Havre was pleasant with a calm sea. We had winds from the SW and that was our direction so again we couldn't sail but the winds were only 5-8 kts. so we would have had to motor anyway. The sun was out all morning and and it was warm. We paralleled the shore about 6-10 miles off so couldn't always see the cliffs that rise up from the water but we came in closer, about a mile, to see the arch and pinnacle formed out of the the cliff at Etretat. We stayed fairly close for rounding Cap Gris Nez and then into La Havre, a very busy commercial port.
.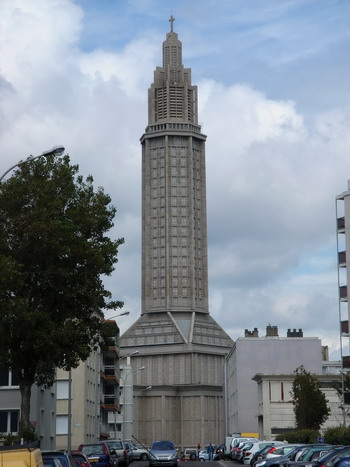 After La Havre was destroyed during the 1944 bombardments architect Auguste Perret was assigned to rebuild the city. It took 2 years to clear the rubble and 18 more years to finish the project. His material of choice was concrete. Here is an interesting concrete church, St. Joseph's, surrounded by concrete apartments and commercial buildings. What few trees are there were added later as they conflicted with his vision. The rebuilding of the town has been recognized by UNESCO and it 2005 it was added to their list of World Heritage Sites. We found it a bit grey and dull but it was definitely interesting and a change from the typical french towns and cities full of character.
July 9, 2007 - St. Vaast-la-Hougue
We had a decent weather window so we cut across the bay from La Havre to St. Vaast-la-Hougue. We would have liked to sail closer to the beaches made famous at during WWII - Omaha and Utah, but it was a 64 mile day as it was. We passed the Greenwich meridian so went from 0 degrees E to 0 degrees W. Although we couldn't point quite high enough we sailed for 3 1/2 hours in 13-15 kts. of wind. What a pleasant reprieve from the engine noise, quiet as it is.
St. Vaast is known for its oysters so it was an obvious destination for both of us. We had also read about a wonderful store to visit. We're not big shoppers but are always on the lookout for a few new additions to the galley. We were not let down by either. We had the best meal of our trip so far in a nautical themed restaurant called Le Chausse Maree, beginning with 9 oysters each. Jim could have had more.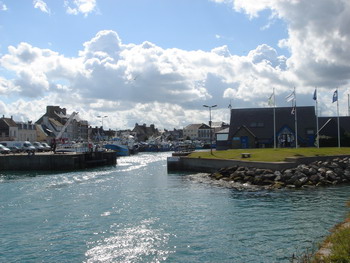 The entrance and marina of St. Vaast. It sits in the heart of the city.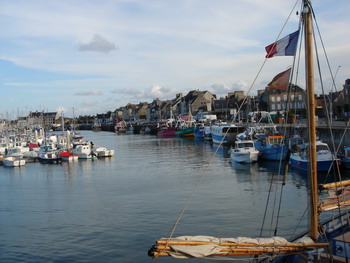 Wow, what a wild ride! Jim wasn't feeling well (too many late nights and early mornings) so I was at the helm for the day. It was 27 miles of the most exciting sailing I've done so far. The current was on the beam for most of it, the wind on the nose for almost all of it and the waves kept building. Our autopilot had stopped at one point yesterday so I didn't want to take a chance on it. I hand-steered for nearly 5 hours. My adrenaline was rushing and the time flew. I was actually enjoying going up, over and sometimes through the waves of up to 3 meters. Jim slept (or tried to sleep) in the cockpit, moving only to keep himself from falling to the cockpit floor as we bashed about. I finally realized that if I slowed the boat down we might not fly off the backside of the waves and land so hard. Things were a little less jarring after that but still a wild ride. Jim came to life in time to bring us into the marina while I got the lines and fenders ready. The Tours des les Ports a la Manche, a rally around this region, were here with 160 boats so there weren't too many free berths. A nice dutch couple pointed one out to us and then helped us dock (along with quite a few others). We provided a little afternoon entertainment trying to get into the box in the wind. Luckily we didn't touch any other boats. Not every entry is textbook.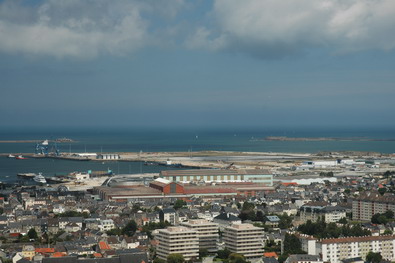 A view of the harbor from atop a hill where the Liberation Museum stands.
Jim slept for about 24 hours and then was fine. Instead of sailing in the sunny weather we took the next day off to rest and do some small projects. The port bow light had come off and some things stored behind the starboard settee cushions escaped while we bounced about in the waves so we needed to fix and secure those things. We are happy to report that with some beefy tape the leaking vent in the forward cabin has stopped. In the early afternoon we walked up to the Liberation Museum, a "pictorial account of the darkest days of the occupation through to the dawn of the landings." We hadn't realized how big a part the port of Cherbourg played in the liberation of Europe. The port was rebuilt allowing transport of trains, tanks, trucks and troops to reach the rest of Europe and a pipeline was installed from England to supply fuel. An amazing feat in a very short period of time.
For me (Jim) being in Normandy has special meaning. My father was one of the American solders who landed on a beach here (a couple of days after D-day). He was a medic and stayed on the front lines of the war across France, Belgium, the Netherlands and into Berlin. The experiences affected him for life and we grew up on all his stories, but they were mostly the funny ones, some scary ones but few really about the horrors he lived through (even those were short: "We were working on some injured patients and a bomb hit and the men on both sides of me were killed. Guess it wasn't my time yet, but old Doc Bauer, with his cigar in his mouth........."). After the war ended he stayed with the occupation, saying that it was better for others who had wives and families to return first, but I bet he enjoyed being an American soldier in Paris!
I wish he was still alive so I could tell him that I have visited the American cemeteries in Belgium and Holland and now seen the beaches of Normandy and the Liberation museum in Cherbourg. He would be happy to know that the people of France, Belgium and the Netherlands still remember the sacrifices of the Americans for their freedom.

We had to wait until the high speed ferry from Dover passed before we could enter the harbor.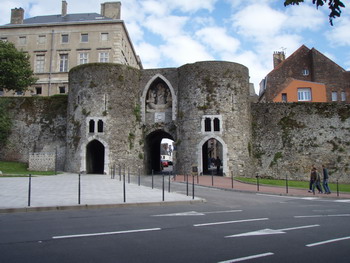 The city of Boulogne has a central fortified town, still completely surrounded by walls.It includes a cathedral, castle and tower as well as several streets of houses, shops and restaurants. Touristy but nice.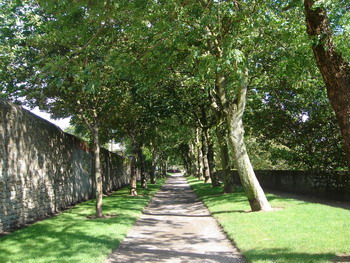 There is a pleasant green area with a path along the top of the wall.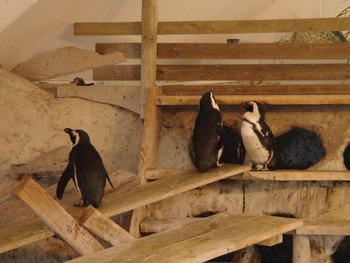 On July 4th we enjoyed a relaxing day exploring the The French National Sea Experience Center, NAUSICAA. It's purpose is to help people discover and better appreciate the sea and to help protect it.
The large aquariums were very well designed, allowing you to walk around, over, through and under them. They included thousands of fish from colorful tropical fish to large sharks. There were even a number of California sea lions swimming and playing among the large kelp.
Visit NAUSICAA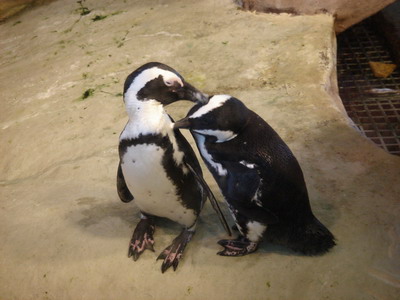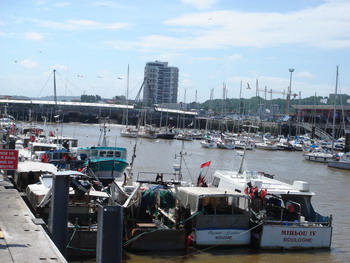 We motored against headwinds to reach Boulogne. But maybe this is as it should be... The propeller, adapted to boats in 1832 by Boulogne-born Frederic Sauvage, allowed us to make this passage.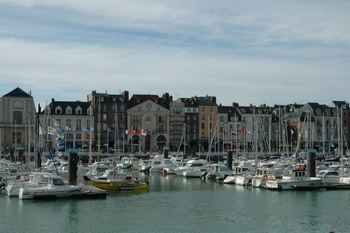 In Dieppe we enjoyed a delicious dinner at one of the restaurants facing the marina. Marmite Dieppiose is a local specialty which is just delicious. It's basically a fish stew with yummy broth and at least 5 kinds of fish and seafood. Large chunks of fish as well as prawns, scallops and other big crustaceans filled the bowl.
The harbor at Dieppe was very nice. Well protected, plenty of finger pontoons and it is right in the city center. Loads of restaurants, boulangeries, shops, etc. line the marina and nearby streets.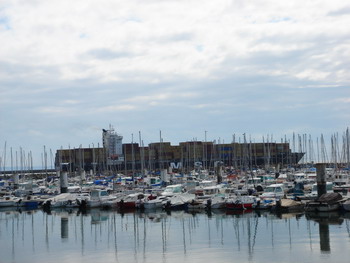 The marina in La Havre is just inside the harbor. Container ships and ferries passed by constantly.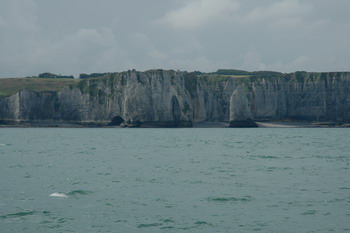 The formations in the cliff at Etretat are spectacular. Pictures on the tourist brochures are much nicer... oh well....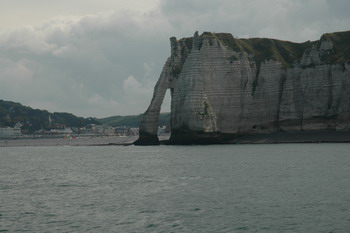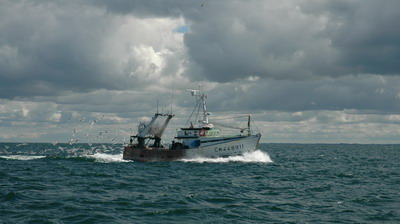 Guess he caught some fish!
We had read in the guide books that a visit to this store was a must. Tenaya is stocked very well but we managed to find some wine, spices and fruit to buy. They provide a delivery service to yachts but Jim had no problem carrying our order.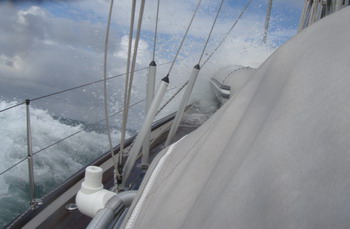 Exciting conditions on the way to Cherbourg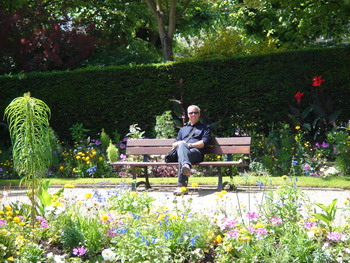 Jim resting in a park built in 1887. Quiet paths wound through trees, flowers and grass to a grotto with many kinds of ducks, some turtles and even a seal.
Follow us as we continue to the Channel Islands and France July Part Two