We left before dawn for the 76 mile trip to Figueira da Foz. 0830 saw winds of 20 - 22 knots from behind. We sailed for a couple of hours until the wind dropped. It rose again about 1300 so we were able to sail again. There were lots and lots of fish pots! It is harder to see them with the jib up so we had a little more stressful day with one of us on the helm and the other looking out the entire time. We were pretty tired by the time we arrived at the marina in Figueira.
We had only planned to stay here one night but both the customs official and the marina guy both told us the weather the next day would not be good. Commander's Weather had given us a decent forecast but after the long, stressful day we'd had we were happy having a layover day. We needed to refill a Camping Gaz canister anyway.
The next day we did some chores aboard and took leisurely showers. By the time we got going it was nearly noon. Jim carried the empty canister to the shop the marina guy told us could refill it a 20 minute walk from the marina. They were out of gas so he carried it back.
Back on the boat a man with an HR 40 across the pontoon from us came over for a visit. He told us about another store where he had just refilled his canister. We had a beer and a nice chat and then Jim and I set off for this other store with the empty canister. We found the store. It was closed. Apparently all the stores on that street close at 1300 on Saturdays. He hauled the empty canister back to the boat. Did I mention it was a really hot and humid day? Yes, it is finally hot.
There is a huge market across the street from the marina in Figueira da Foz. Katie has been wanting a beach mat and we were able to buy one here for 2 euros.
We left at 0715 for our 67 mile trip to Peniche. The air was still and the water like glass until noon. About 0900 saw lots and lots of dolphins. Many of them were jumping higher than we'd seen before. It was magical. Jim sat on the bow enjoying the serene morning.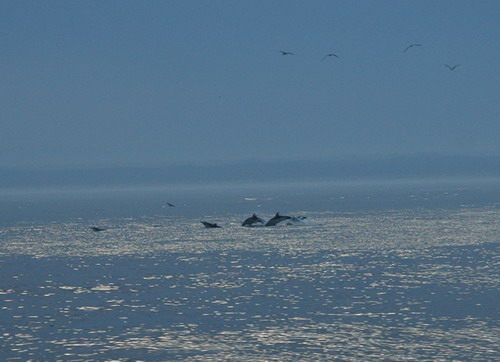 About noon the wind picked up (just like the Pilot books say) and we were able to roll out the jib and turn off the motor. How nice it is to have that noise off! We sailed at over 6 knots with 7 - 11 knots of wind from behind. Not so many pots today so a much more peaceful and easy day.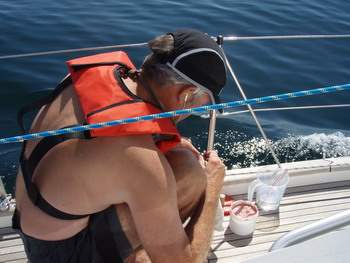 In the morning Jim took advantage of the calm conditions to catch up on some cleaning. Something always needs cleaning or polishing!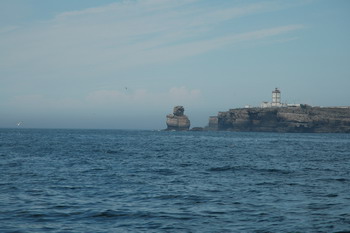 Rounding Cabo Carvoeiro just before the entrance to the harbor in Peniche.
We were in Peniche just one night. After rafting to another yacht on the visitor's pontoon we were immediately greeted by two customs officials. They came aboard and looked at out ships papers. Both young men were very friendly. After asking where we had been and where we were going I guess they saw we were excited about being in Portugal. One man suggested we visit a few places so I got out a Pilot book for him to mark the spots. They both enthusiastically showed us their favorite towns and anchorages in the Algarve a little further on our journey.
After they left we took our papers and passports and went in search of the marina office. It was closed so we walked around the town. We found a quaint restaurant to have dinner and we both had squid grilled on skewers with onions and green peppers. Restaurants in Portugal do an interesting thing. They bring a selection of starters which you can eat or leave. You are only charged for what you eat. Our was a delicious assortment of marinated fish, clams, olives and bread with soft cheese (goat or sheep, we haven't figured out yet) and sardine paste. It was a memorable meal.
We left at 0830 the next morning for Cascais, 50 miles further south. Although there were no clouds in the sky the air was hazy. We smelled smoke at one point so maybe there was a forest fire nearby. There were a lot of floats on this section of the coastline. We passed Cabo da Roca and were close enough to get a good picture but Katie chose not to go below and dig out the good camera. We have so many pictures of capes now. Did we really need another? Later we read that it is the western-most point of land in Europe. Would be nice to have a picture. Oh well. We'll have to read more ahead of time!
The wind never got above 5 knots so we motored all day. Aside from looking for fish pots it was a relaxing day in the warm sunshine.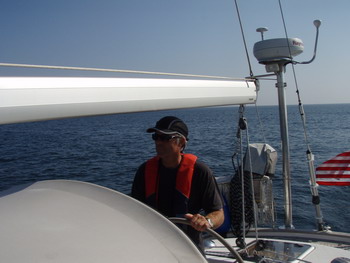 We spent 3 days in Cascais as it is a 40 minute train ride from Lisbon. The women in the marina office were exceptionally friendly and helpful. One woman was from the town of Sintra and recommended a visit. Her enthusiasm was infectious and before long Katie had a map, list of places to see and the names of two local cakes to sample.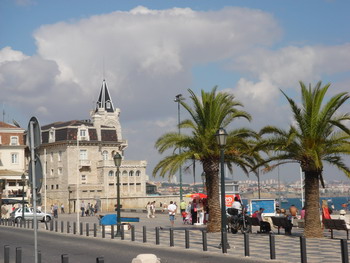 Cascais waterfront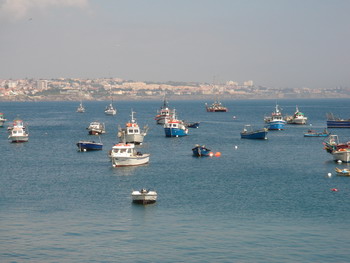 Cascais harbor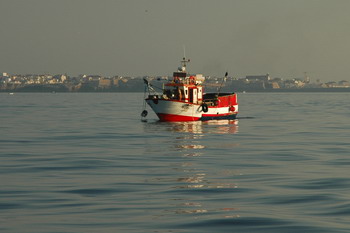 Fishing boats set rows of traps, marked by flags or floats at each end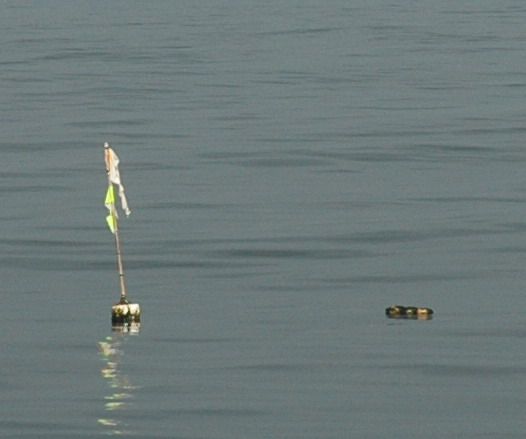 Between these floats are many cages along the sea floor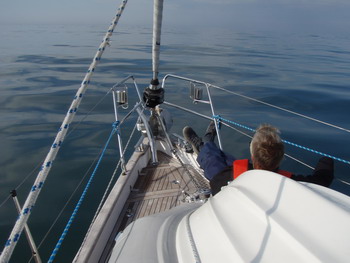 We are constantly on look out for the flags, floats and dolphins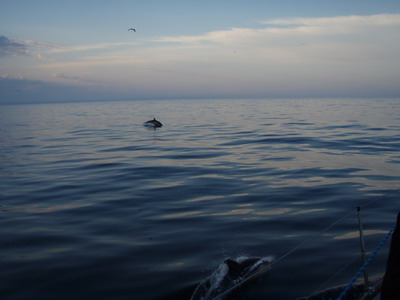 We saw dolphins, fishing boats and lots of fish pots all along the Portuguese Atlantic coast.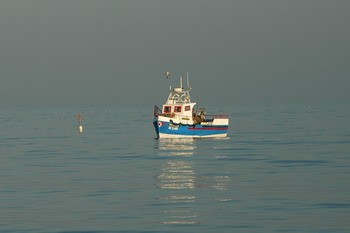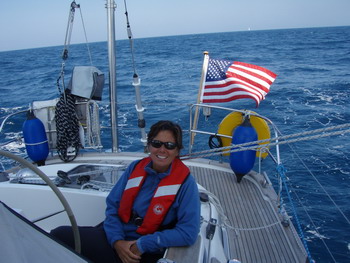 Watches are easy when the weather is calm.
Gliding along with no swell, waves or wind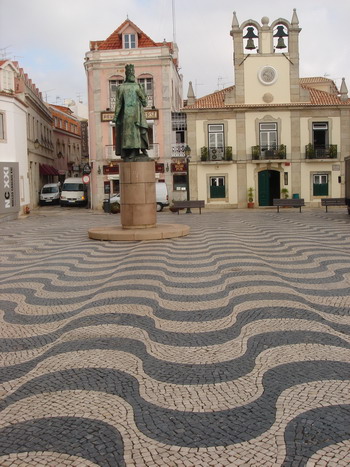 Cascais cobblestones in the square across from the harbor.
Visit the enchanted cities of Sintra and Lisbon- August Part Five