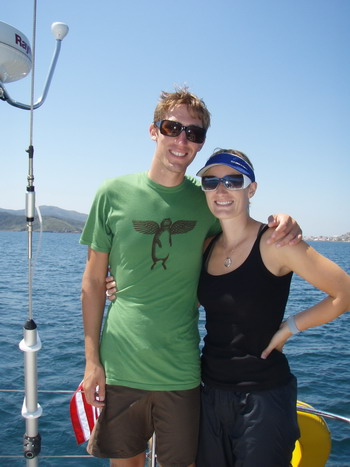 Scott and Amy arrived in La Coruna on August 8, 2007 (after flying from California to Dublin to Porto and then taking a train to Vigo, where they spent a night sleeping in the park, and then another train to La Coruna). They were relieved to see the boat, and more importantly, to take the first showers of their trip! We left the next day to sail about 30 miles to Corme and a wonderful quiet anchorage.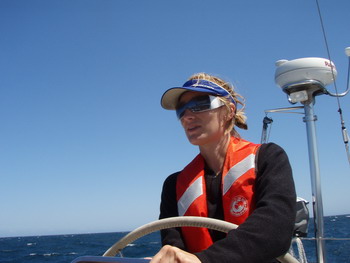 Amy at the helm
Amy here. This was me at my best after 2 Emergen-Cs, 2 anti-nausea wrist bands, 2 stugeron pills, and 2 naps. I was in need of convincing that steering would make me feel better, and surely it did. I had anticipated vomiting, but alas, proved myself wrong.
We had perfect conditions for a fast sail to Camarinas (8+ knots much of the time). The guidebook said that many consider the Ria de Camarinas among Galicia's loveliest, with the added advantage that there are many protected anchorages. We found it beautiful, living up to its reputation.
Scott trying to figure out which side to barf over... leeward or windward. He has never been so green.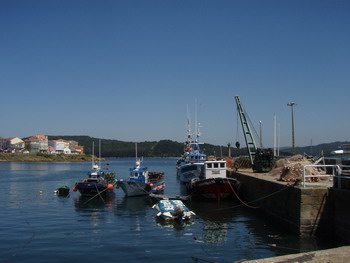 The fishing village of Camarinas
Camarinas is a lovely town that is famous for it's lace. Not surprising, the marina is right next to the fish processing plant. Scott and I were sure our noses would get used to the smell... they did not.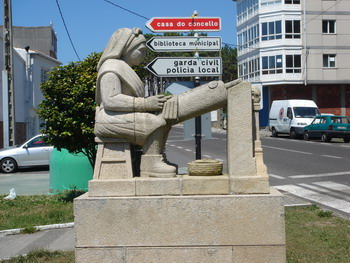 A tribute to the lace industry in Camarinas
We left Camarinas in perfect conditions and sailed past Cape Finisterre, along the Costa da Morte (coast of death) to the Ria de Muros and the nice marina at Portosin (50 miles). The Romans thought Finisterre was the end of the world (Finis Terrae) and in bad weather it is a dangerous area. But we had calm seas, good wind and sunshine - making a perfect day.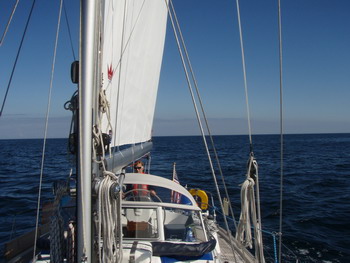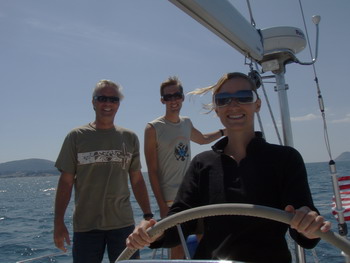 Amy sailing into Ria de Muros
August 13, 2007
The weather today in Portosin is fine but there is a large storm out in the Atlantic that will create waves with swells forecast between 4 and 5 meters (12-15 feet) so we decided to stay here for a few days and visit some nearby towns.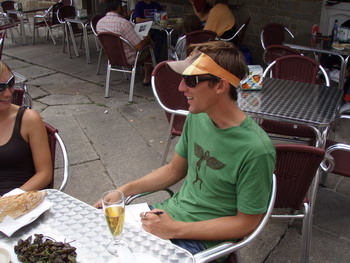 Scott, Amy and Jim took the bus to the nearby town of Noia on the 13th. It used to be a busy harbor but has now silted up completely. We had lunch in the old mediaeval town. Scott drew the church across from us. It's amazing how quickly he does these sketches.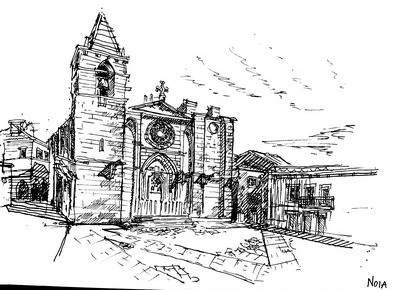 Scott's sketch of the church in Noia
August 14, 2007
The four of us took the bus to Noia and then on to Santiago to see Santiago de Compostela, an ancient pilgrimage center and UNESCO World Heritage site. It is a beautiful town, full of character and dominated by the cathedral. Most of the mediaeval town is built of a golden colored granite that glissened with the moisture of our drizzly day. The streets are quite narrow, nearly all pedestrian only, and full of tourists speaking many different languages. Many carried backpacks or pushed bicycles laden with bags.
For Catholics it is the third holiest site after Jerusalem and Rome. To actually be considered a pilgrim these days you must either walk the last 100 km or cycle the last 200 km to the city. One of the most popular routes is 750 kilometers long and winds most of the way across Northern Spain. During the eleventh and twelfth centuries over half a million pilgrims walked to the cathedral to see where St. James is believed to be buried, kiss his cloak, and attend High Mass before walking back home.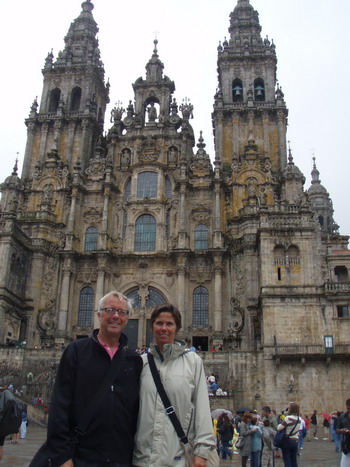 . Standing in front of the cathedral of Santiago de Campostela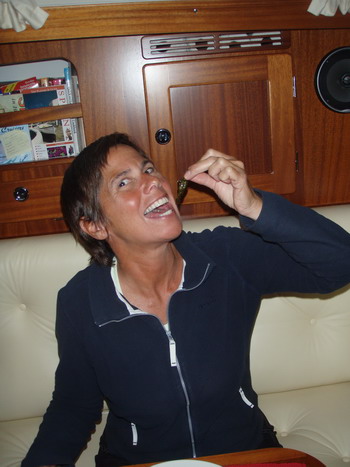 Ready to bite a Pimiento de Padron and hoping it's not one of the hot ones.

Both La Coruna and Corme are in rias, as will the next several stops. Rias are areas where the rivers flow from the highlands down to the ocean, ending in long, wide bays. They begin in the north with the Rias Atlas where La Coruna is located. It is a nice introduction to what becomes more grand. Further on, the coast is mountainous with native oaks, pines and introduced eucalyptus growing down nearly to the waters edge, separated only by granite rocks or sandy beaches.They remind us of the fjords in Norway. Small fishing towns dot the rias where some of Europe's best seafood are caught. These fishing operations are very small scale, unusual for this era. The women and children tend to the locally produced crops while the men fish. The people live very close to the land.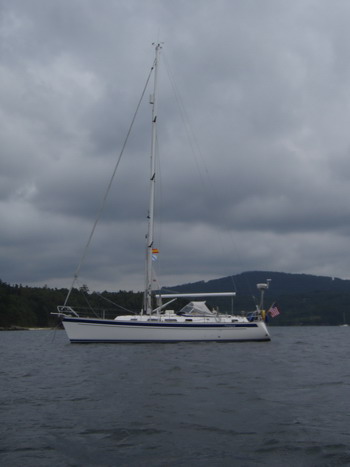 Tenaya at anchor in Ria de Camarinas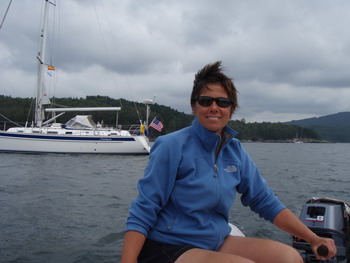 We used our Avon tender to visit the beaches and enjoy the sun (we all dove into the water, but only for seconds - it's still to cold here, less than 60 degrees).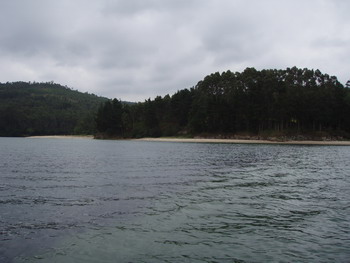 A sandy beach far up the ria
We we took the dingy across the bay and followed the Rio del Puente del Puerto river. It was absolutely gorgeous and in many ways reminded us of Washington state with the pine trees coming down the mountains to the waters edge.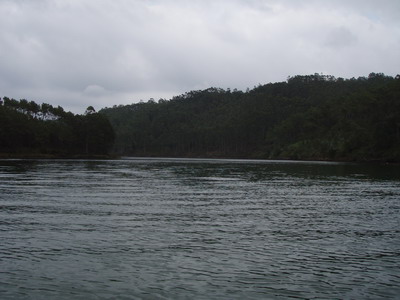 Looking up the river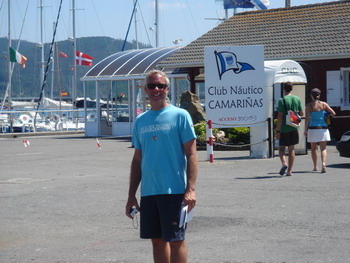 Jim, with Scott and Amy in the background, at the marina in Camarinas.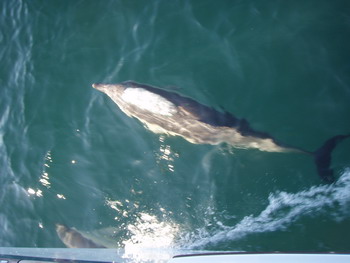 We had dolphins swim with us as we crossed the Bay of Biscay and a few other days as well, but near Cape Finisterre I finally got a picture of one (two if you look closely).
With the wind behind us we sailed wing 'n wing for a couple of hours, mostly above 7 knots.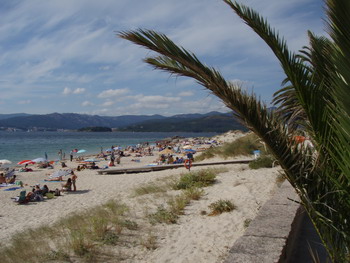 The beach near the center of Portosin. Scott and Amy took the tender and found a different less crowded beach.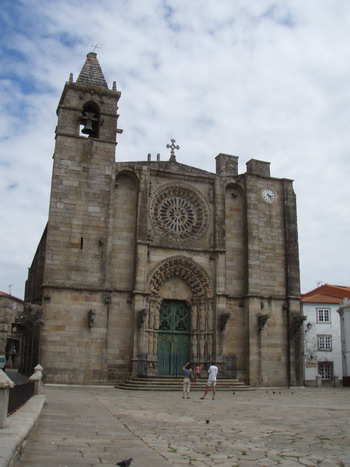 Church in Noia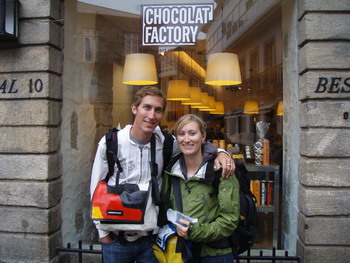 With all of us fond of chocolate we had to stop at this store for a snack.
Scott and Amy joined us for a visit to the cathedral and a walk around Santiago but later were off to the train station to begin their journey back home to the Bay Area in California. Having taken 3 days to reach us, they wanted to be sure to reach Dublin for their return flight to the US on the 17th. 6 travel days really cuts into a 2 week trip! We were happy to have them join us on Tenaya and will miss their company and help. Fortunately we had good weather and decent wind while they were here. Now we are back on board waiting out Force 8 winds and high swells. Maybe we will be able to move further south on Friday. We'll see...
At the market searching for vegies to go with the chicken I'd thawed for dinner to make stir-fry we came across a bag of Pimientos de Padron. We'd had a plate full of them in La Coruna. They were delicious. We bought a bag hoping to figure out what to do with them. Fortunately we have wifi so I googled them and came up with a few recipes. Jim ended up frying them in olive oil and then adding sea salt. They were quite yummy. These are small, sweet peppers ... well usually they are sweet but a few in every batch are very hot. There is no way to identify the hot ones except by taste and by then it's too late. Jim got one early on but I escaped until I was nearly finished. Then I got two right in a row. It was then that I decided to make small smoothies for dessert. s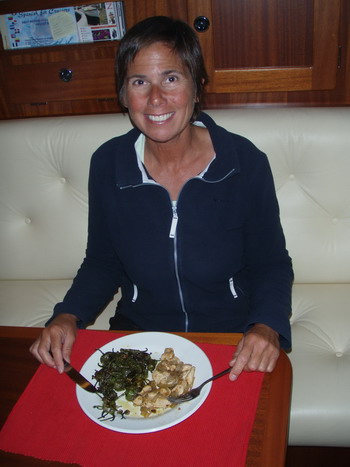 Go to: