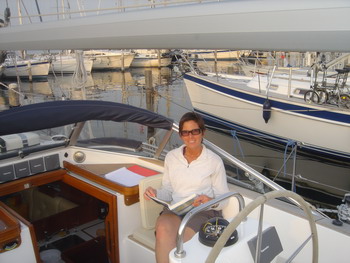 We are finally back aboard TENAYA. It seemed like we were gone a long time, but now that we are settled it seems like we never left. We arrived in Europe on the 4th of April and Tenaya was already in the water. We had a short shopping list of things to bring back from the USA and somehow it grew to fill 6 large luggage pieces. It took several days to organize things, choose things to be given away and stow all the new things.
The weather has been perfect and it is forecast to remain good. We have had no rain at all since we arrived - not at all what we expected. The warm, sunny days are much like what we left in San Diego.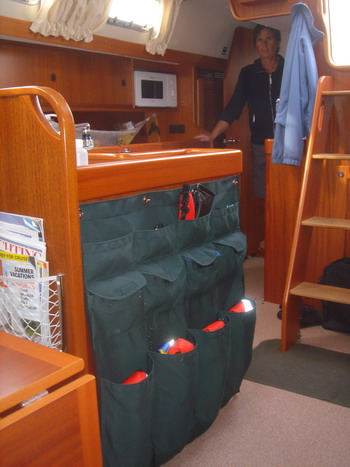 Something we saw on the Hallberg-Rassy owners' site was a panel of pockets mounted at the base of the companionway. We had one made in San Diego with pockets for our life vests, harnesses and tethers as well as flashlights, glasses, gloves and other small things that we want to find quickly when sailing.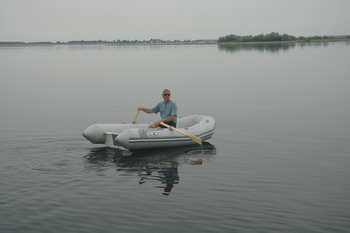 Tenaya's new tender, an AVON Rover 310 RIB with a Yamaha 8 hp motor was delivered today, April 16. Katie had her first experience rowing a boat...a bit different than paddling a kayak.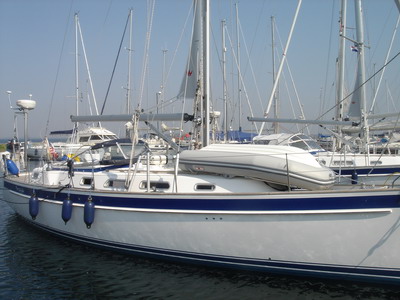 The tender fits nicely on our 40' boat but covers both hatches of the forward cabin.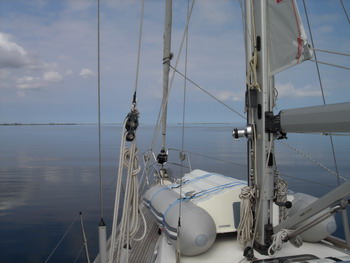 18 April, no wind, no other boats and the water looks like glass.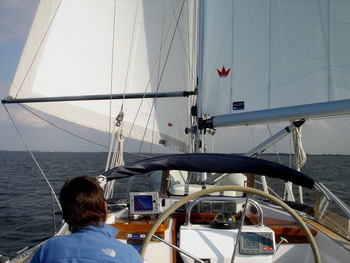 The wind picked up for our return sail with 10 miles of F 3-4 over the stern.
Bruinisse marina is located on the Grevelingmeer, which was once open to the North Sea, but today is closed off by the Delta Project barrier. Returning to the marina one afternoon we were visited by a dolphin. Local sailors had never seen a dolphin in the Grevelingmeer and said this was a sign that the "lake" was becoming healthy again. VIDEO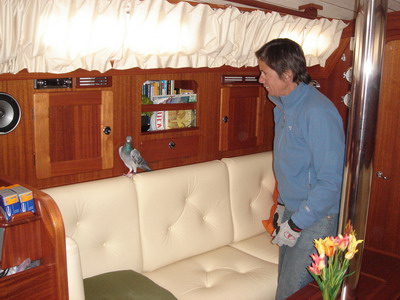 For Katie's birthday (April 23, 2007) we had a special visitor come while we were sailing. He stayed until we returned to the dock and then didn't want to leave. After being taken out to the cockpit he tried to go back down inside so we had to put in the washboards.
Click on picture to see Katie try to talk the bird into leaving.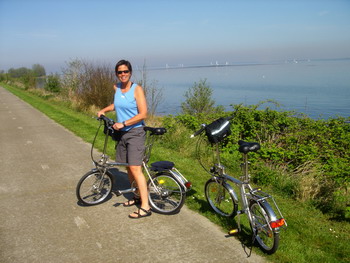 We bought new bikes at the end of last season. They fold into a small package and can be stowed in our forward cabin, until we add another sail, that is. We took a sightseeing ride for a few hours in the glorious sunshine. They worked great and we had fun exploring part of the island where Bruinisse is located.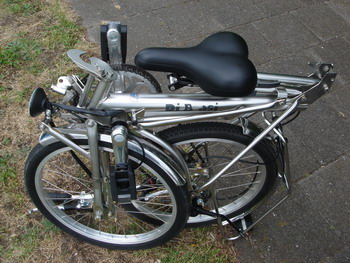 Folded bike - it looked easy, but it took us a number of tries to do it right.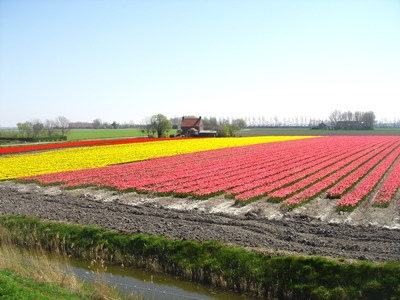 The countryside is beautiful with fields of colorful tulips.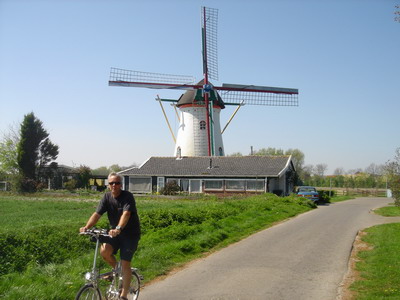 Aeolus Windmill
This windmill was built in 1739 and is known as Aeolus after the Roman god of the winds. It is a tower mill with the top able to be rotated to face the wind. It was in use until 1962.
Saint Adrians Church
Built between 1350 and 1450. In 1867 the original clock was destroyed by fire and was replaced by a second-hand clock -- one that was built in nearby Middleburg in 1637 and the time was correct when we visited.
The 3 weeks we have been in Bruinisse have gone quickly in some ways, but it also seems we have been aboard Tenaya for a long time. Everything feels natural and we are now back into our sailing mode.
Tenaya now has an SSB radio which allows us to send and receive emails from anywhere. We also added AIS, which allows us to see most of the large ships within 25 miles, their direction of travel and speed. This will be a great aid while we are sailing down the English Channel.
Many days were spent cleaning and organizing Tenaya, but we did get to sail 10 days and covered 200 miles in day sails during April.
We've been fortunate to have had sunny, warm days here with only a hint of sprinkles one night. Wind has ranged from non-existant to a little over 20 kts, mainly Force 3-4. The season is off to a good start!