December 2008
We left the Canary Islands on December 6, 2008 but ran into equipment problems and changed our course to the Cape Verdes Islands to make repairs. After those were completed we needed fuel. But the Cape Verdes are not really set up for yachts yet and the only fuel we could get was at a small fishing harbor. It was not easy to dock there as it was filled with fishing boats but after hanging around awhile someone directed us to an open space between some fishing boats and some rocks. We fit in and were able to get diesel from their large tank.
After living in Europe since 2000 and then sailing around Europe since 2006 I have gotten used to the view most Europeans have of America. Bush has not been a positive thing for our country's reputation and we are used to people's view of America in Iraq. While we agree with these critics and think that the Bush administration will be remembered as one of the worse things that has happened to the USA in a long time we still think America is a great country and feel terrible that so many people in the world disagree with that.
Everything changed when we got fuel! First the man on the right gave a Thumbs Up to Katie, pointing at our American Flag and saying "Obama, yes!" The man on the left, when I was helping him put fuel in our tanks, looked at me and pointed at his arm and said, "Your new president has the same skin as me." This quick fuel stop made me, again, proud to be an American!
October 17, 2008
Right now I have a pretty much perfect life..... not too many cares....living aboard Tenaya with Katie....truly enjoying every minute. The future is very unsure, but also very positive...do we return to the Mediterranean after a winter in the Caribbean? Or continue west? Or just hang out and enjoy perfect beaches, perfect weather and a perfect life in the Caribbean until we are ready to leave? All great choices.
But sometimes, not often, something really hits me hard. And today it happened. I just heard that one of our new friends, Andy Wall, had a massive heart attach and died.
We met Pam and Andy in Portugal and became friends quickly. Pam is a wonderful, outgoing person who is very easy to like. Andy was a little more quiet, but we found that we shared a love for so many of the exact same books. We shared some great diners aboard their boat, Kandarik, and earlier this year had some breakfasts and dinners at the sailboat show in Oakland, California.
Andy had sailed from Australia when he was young, stopping for a couple of months in Patagonia and exploring the many channels and bays before rounding Cape Horn. Later he and Pam had sailed around the world with their little kids. The things they had done were amazing, but what really impressed me was that they still really liked each other. After so many years living aboard a small boat they still really enjoyed being close.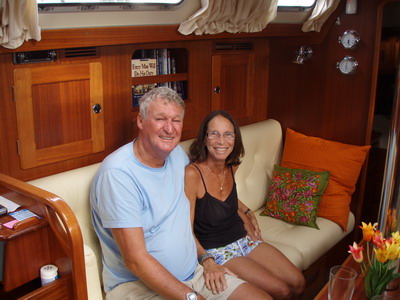 Pam told us that maybe they would be sailing to Scotland next year and that we should keep that in mind. We have no plans, but if the opportunity of sailing to Scotland had actually happened, I would have jumped at the opportunity and Tenaya would be off to Scotland. There are not many people who I feel would make any trip a great adventure and also make it completely enjoyable.
But now we will never get that chance. And that makes me very sad.
August 27, 2008
Asymmetrical Spinnaker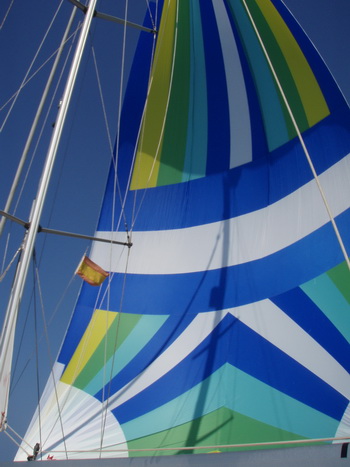 When originally ordering Tenaya we included an asymmetrical spinnaker, but we had never used one. In the Netherlands, as part of our sailing courses, we requested a class in the use of this sail. Our excellent instructor, Peter, helped us raise the sail and everything was exciting. The wind was picking up, above 15 knots and maybe we should have taken the sail down. We probably would have, but our speed was increasing - over 9 knots - and Katie was taking pictures of the speed readout. Peter was having a great time too and then a gust hit us and we broached, the sail hit the water and in a matter of seconds it self destructed as we watched. It was all very exciting! A fun but expensive day.
We didn't want to give up on using an asym spinnaker, so we ordered a replacement with the same custom colors Katie had designed for the first one. Then we put it away in the sail locker and never took it out again.
Until Yesterday.
Over the past couple of years we have talked about setting it up and trying it but have always talked ourselves out of it for a variety of reasons. It's a big sail, we have never set one up by ourselves, the dingy covers the front hatch that it needs to come through, the wind may increase or change direction, etc. Lots of reasons to leave it stored.
Somehow yesterday, even though we tried to come up with reasons not to try it again, we did set it up. First we raised the dingy enough for it to come up through the forward hatch. That worked fine. Then I hooked up all the lines: tack to a line through a block on the bowsprit, sheet to the clew, the halyard to the head and keep the lines for raising and lowering the sock organized. This took awhile as it seemed that each line I attached was over or under some other line but finally it all seemed right. We hoisted the sock and the sail opened perfectly and Katie trimmed the sheet and it looked perfect!
When we started the wind was around 10 knots, but started to increase and was above 15 knots when we decided that it was enough for one day. I released the tack (as Beth Leonard had recommended) and pulled down the sock. It worked perfectly!
So now we are no longer afraid of it and when the conditions are right we will hoist it again!

.