Fireboy Automatic fire extinguisher system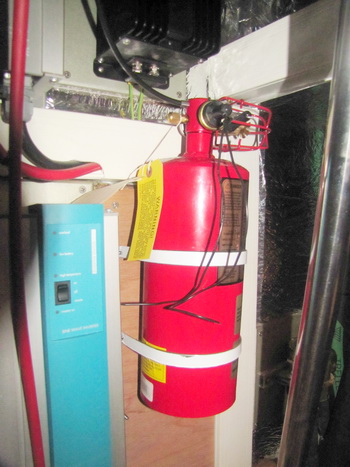 In January, 2011 our friends on Visions of Johanna had a fire in their engine room started by some electrical failure. They had just arrived in Gulf Harbour Marina when it happened, so they were lucky to be safe but the damage was extensive. I had long considered having an automatic system in our engine room and this was the wake up call to do it now. I choose the Fireboy system, which automatically discharges Chlorotetrafluoroethane when the temperature reaches 79 degrees C (175 degree F). It will flood the engine compartment in less than 10 seconds for fast smothering of the fire and leaves no harmful residue to clean up.
We installed MA2 series that has automatic discharge as well as a manual discharge switch at the helm.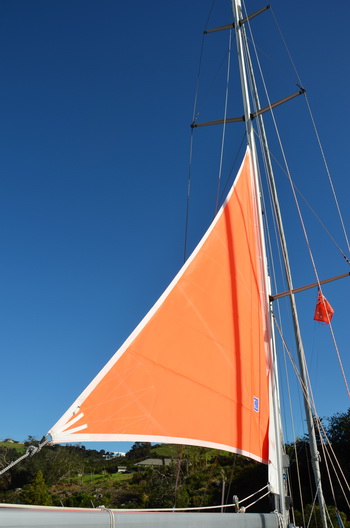 Another safety item we have put off buying is a trysail. Trysails are used in storm conditions to give a small size mainsail. After our problems with the in-mast furling system (which we still think is a great thing) we decided that having a back-up small mainsail would be a good insurance policy. We hope to never use it.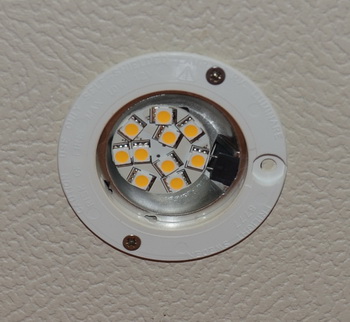 The interior lighting in Tenaya is excellent, with ceiling lights and "mood" lights along the sides. But the energy use was so high that we seldom used them. Now we have replaced all bulbs with LED lights and are very happy with the result. LED lights we had looked at a few years ago never seemed anywhere close to "warm" but today's lights are much better. And, best of all, we will use them without worry about the amount of power used.
Tenaya has a removable cutter stay for use with a storm jib. If we are in conditions where we may want to use the storm jib we can have the stay already connected and the sail ready to go. But having a loose sail on deck is not a good solution so while we were in Gulf Harbour, New Zealand I made a sailbag to allow us to keep the jib attached to the stay and ready to use. Beth Leonard kindly explained the storm jib bag they use and her ideas of things they would change.
Generator - Mastervolt Whisper 8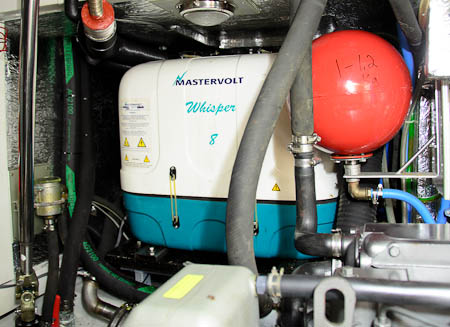 We chose a Mastervolt Whisper 8 Generator because Tenaya has air conditioning. We can count the places we've used the a/c in 7 years on one hand, and then it was only in marinas, so it really turns out to be overkill. However, we do not have solar or wind charging so it is our only option to charge batteries other than running the engine when sailing or at anchor.
It has been a complicated problem from the beginning. Sometimes it ran perfectly and others it would not generate enough power so would shut down. Being computer controlled, if the output voltage falls, it shuts the generator off. We had it worked on in the Med in 2008 which seemed to solve the problem for awhile. In 2010 we had the Mastervolt distributor in New Zealand try to fix it. He replaced capacitors and made a lot of adjustments which seemed to fix it but again stopped after a couple of months. By then we were in Vanuatu with no hope of outside help.
When we returned to New Zealand we had another person look at it. He was very good and traced all the possible problems through out the system and found no problems but it still would turn itself off. He tried bringing in a test fuel tank and attaching it to the generator. It worked perfectly so the problem seemed to be with our fuel tank. We had someone come and check the tank, completely clean it and then it worked perfectly for awhile. Once we were off sailing it failed again.
At that point I considered making it a permanent mooring. Why did it work perfectly sometimes but not others? Maybe our fuel tank ventilation tubes were blocked? No, they were fine. We have two fuel tanks, one is the main tank and the other, when the valve is open, flows into the main tank. When the fuel in the main tank got low the generator did not work, but if I opened the upper tank then it worked again.
That was my first real clue. If both tanks were full the generator worked. If the main tank was low it did not work. If I opened the second tank to fill the first it worked. I checked the Mastervolt specs and found that the lift from the main tank to the generator was within tolerances but close to the line. Maybe it needed an auxiliary pump even though the specs did not say it was necessary and Hallberg Rassy had not thought it necessary.
For little cost I got an auxiliary pump, mounted it right after the Racor filter, and wired it to the generator.
Touch wood, I think it's fixed! The generator has been working perfectly for 6 months. Simple and inexpensive solution that all the service people, who charged us by the hour, had not considered.
Go back to Equipment Comments Page One