Equipment on Tenaya - Original, Additions, Replacements, Repairs and Comments
Choosing a Cruising Sailboat by John Neal

Building Tenaya
A good hull is the base for a solid yacht. Hallberg-Rassy has been building GRP (Fiberglass Reinforced Polyester) hulls for over 40 years. The keel area is solid laminate and has a grid system that reinforces the hull under the waterline. This grid distributes loads from the bottom out into the hull in case of grounding (which we hope never to test).
After the hulls are molded a grid is bonded to the shell. Then all bulkheads are laminated from both sides to give additional strength. Then the deck and hull are joined together by overlapping laminate; there are no bolts or screws and the bulkheads are also laminated to the deck from both sides.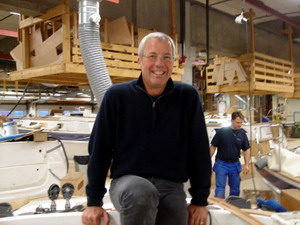 It takes about 5 months to build a Hallberg-Rassy boat. The work is performed by teams specializing in different categories and all work is done in house. The teak and other woodwork is hand crafted by experts. On staff are experienced specialists for engine installation, electrical installation, etc.
Watching with our own eyes the amount of care that goes into every step was a great experience.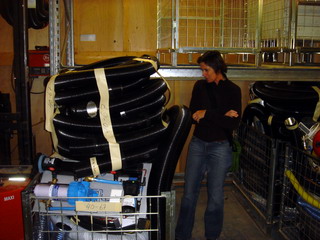 Looking at all the things that still need to go in Tenaya, it's hard to believe it will all fit. It will, won't it?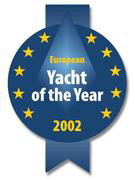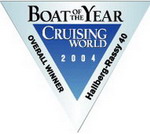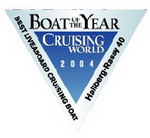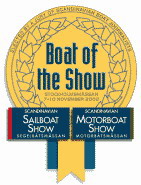 The Hallberg-Rassy 40 has won many awards and is one of the most respected cruising boats available. We were convinced that Hallberg-Rassy made the best boat to meet our needs, but visiting the yard was a fantastic experience. Watching the amount of care that goes into each boat and the amount of work to ensure everything is perfect convinced us even more that we had made the right decision.
Hallberg-Rassy 40 360 View of HR 40
Hallberg-Rassy Main Site Reasons to Buy a HR boat
He has produced more than 600 designs, sail and power, cruising and racing from 20 to 200 foot megayachts, which are considered to be among the best in the world. The list of clients and yachts reads like the who's who in yachting around the world, from Europe and Great Britain, North and South America, Japan, the Far East, Australia and New Zealand.
These designs have won all the major trophies in the world including Admiral's Cup, Onion Patch, Bermuda Race, Transpacific,Whitbread Round the World Race, Sardinia Cup, Buenos Aires-Rio Race, S.O.R.C., Kenwood Cup, Copa del Rey, San Francisco Big Boat Series, Giraglia Race, Settimana delle Bocche, Two Ton Cup World Championship, Martini Middle Sea Race, Maxi World Championship, Nioulargue, etc.


Hallberg-Rassy 40
Designer: Germán Frers
CE Category A – unlimited ocean voyages
Hull Length 12.4 m 40'8"
Waterline 10.6 m 34'9"
Beam 3.82 m 12'6"
Draft 1.99 m 6' 7"
Displacement 10 t 22,000 lbs
Mast over water 18.3 m 60'

Engine, Yanmar 4JH4E
Number of cylinders 4
Cylinder volume 2.2 liters
Power 40 kW 54 HP
Diesel tank 445 liters 118.5 US Gal
Cruising range under power Approximately 890 NM
Water tank 460 liters 122 US Gal
HR 40 numbers:
Displacement to Waterline Length

193.04

modern boats are 190-270.

Sail Area to displacement

20.08

other boats- 13.2 to 16.8 (higher is better)

Capsize Screening Index

1.79

want < 2 (lower is better)

Comfort Index

30.9

other boats are 19.6 to 28.8 (higher is better)

Theoretical Hull Speed in knots

8.16

ballast/displacement

41%
Current Hallberg-Rassy brochure for HR 40