A small boy heard the ocean roar,
There are secrets on my distant shore,
But beware my child, the ships bell's wail,
Wait not to long to start to sail.
So quickly come and go the years,
And a young adult stands abeach with fears,
Come on, Come on the ocean cussed,
Time passes on. Oh sail you must.
Now its business in mid-aged prime,
And maybe tomorrow there will be time,
Now is too soon, its raining today,
Gone all gone-years are eaten away.
An old man looks, still feeling the lure,
Yet he'll suffer the pain, than go for the cure,
The hair is white, the steps with care,
The tide has turned, he is aware.
So all too soon the secrets are buried,
Along with him and all regrets he carried,
And it's not for the loss of secrets he cried,
But rather because he'd never tried.
For me, this has been a dream for 35 years! And in time before the last part of the poem becomes true.
This poem was published by the Swedish Ocean Sailing Club was quoted on Reginasailing.com by Leon Schultz, who believes that the unknown poet would have wanted it shared.
I was born and raised in Southern California. During High School (1964) I started surfing and over the next couple of years spent a lot of time in Hollywood as sort of a wannabe hippie (even tried living in a VW bus for awhile).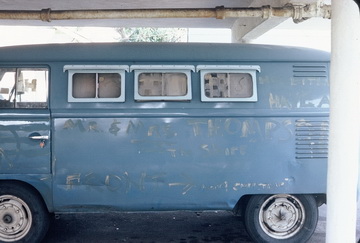 ---
Sometime around 1966 I was introduced to rock climbing at a local climbing area and soon climbing became my passion. I attended UCLA, studying Philosophy and Mathematics, but mostly going on mountaineering trips and Anti-War rallies. I also found my first dream job, working as a salesman in one of the few mountaineering/backpacking stores in the country (Kelty Pack).
After college I went to Mexico to climb the big volcanoes outside Mexico City and then to the beaches of southern Mexico, where I had my first introduction to sailing. In 1970 we returned to California with the plan to buy or build a boat and sail back to Mexico.
I finally did buy a 24' Islander, but at the same time started working in another mountaineering store and started teaching climbing to make a little money. I knew friends who were starting companies making outdoor equipment and that sounded really exciting. So my brother and I started a company to make backpacks (The boat was then traded for 5 industrial sewing machines).
The company started growing fast as we made backpacks, sleeping bags, tents, down jackets and some of the very first Gore-Tex jackets. We did buy another boat, a Newport 30, but work filled almost all the time. Wilderness Experience, Inc. did very well and eventually we completed a public stock offering and were listed on NASDAQ.
I then tried a few other things: I owned a couple of outdoor retail stores, worked at California State University Northridge as a professor, formed a sales company partnership that specialized in the outdoors, bicycling, skiing, wind surfing and snowboarding.
In 1994 I took my first "corporate" job with VF Corporation, moved to Wisconsin to be Senior Vice President at JanSport, then in 2000 moved to Europe as a division President when we purchased Eastpak and then Kipling in 2004. The experience has been great and the people I worked with have been even better.
But now it is time to go back to that dream I had in 1970. As of the end of 2005 I have stopped working and Katie and I are planning our adventure.
December, 2005
If you are interesting in the story of the Eastpak & Kipling acquisitions see History
If you are interested in the history of Wilderness Experience, Inc see Wild X History