LATEST UPDATE
June 2020 - John Muir Trail (9/2019)
Articles and other Publications
Welcome to our website
We created this for our friends and family, most of whom do not understand why Jim would quit a great job that he loved (President of JanSport - Eastpak - Kipling International) and how we can move away from a city that we enjoy (Antwerp, Belgium) and onto a boat with no idea what we are doing or where we are going. This site will tell the story of our adventures.
December 2005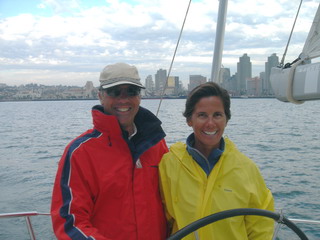 Feel free to contact us: Jim & Katie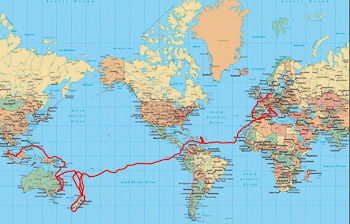 Video: Tenaya's Route 2006 - 2014
To follow our adventures you can click onto the Logs links or Route Map at left or the following links to view regions.
Atlantic Europe
The Netherlands Belgium France Spain Portugal
Western Mediterranean
Spain Balearic Islands Corsica France Monaco Italy Pontine Islands Sicily
Canary Islands
Passage from Spain Graciosa Lanzarote Tenerife La Palma La Gomera
Caribbean
Passage from Cape Verdes Barbados Bequia Tobago Cays St. Vincent & St. Lucia Martinique Dominica Isle des Saintes & Guadeloupe Antigua Barbuda St. Barts Saint Maarten British Virgin Islands Saba St. Kitts Nevis Montserrat Bonaire Curacao San Blas Islands Panama
Pacific
Galapagos Islands Pacific Crossing Marquesas Islands Tuomotu Islands The Society Islands Cook Islands Niue Palmerston Island Kingdom of Tonga Fiji New Zealand New Caledonia Vanuatu 2011
Papua New Guinea Jayapura, Indonesia Palau
Southeast Asia
The Philippines Borneo Malaysia Singapore Langkawi Thailand Myanmar Cambodia Laos Vietnam Hong Kong
Eastern Mediterranean
Turkey The Black Sea Istanbul to Bodrum Greece Albania Croatia Venice, Italy
June - October 2016: We'll be sailing from Venice, Italy to Mallorca, Spain and visiting Slovenia, Croatia, Montenegro, Albania, Sicily, Corsica and the Balaeric Islands. Watch for updates.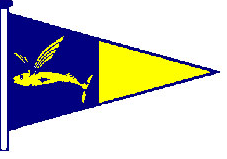 Seven Seas Cruising Association
NEW for 2016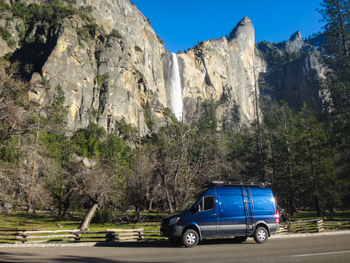 Check out our new land yacht, a 4x4 Sprinter!
We've seen 50 countries aboard Tenaya, now it's time to see our own continent.
A little critter, Sprinter Van Rat, will tell the story of our DIY build-out and introduce you to places we go and people we meet.
Please join us!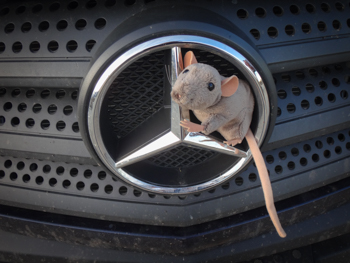 Follow our sailing adventures on Facebook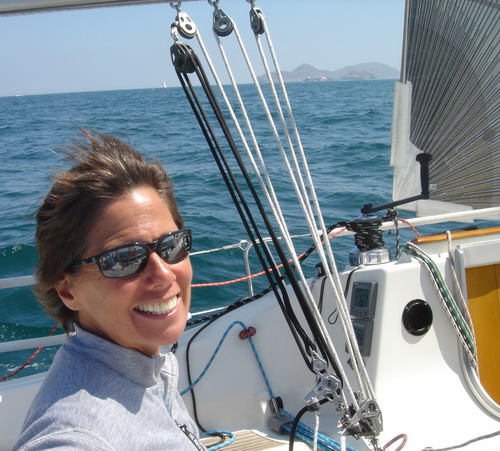 Katie sailing near the Coronado Islands, Mexico September 2005
Jim in Newport, RI - Summer 2005. It looks like I am trying to look cool but really I am trying to watch where I am going. This is my first time on a sailboat in 25 years.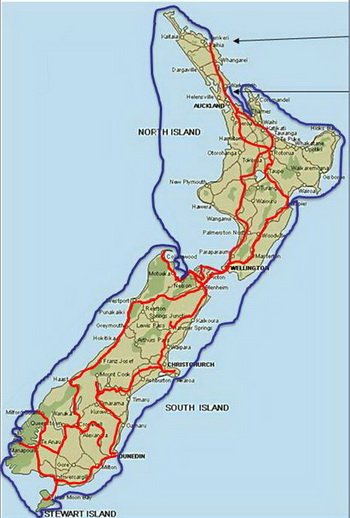 Read about our circumnavigation of New Zealand
Read about our land travels in New Zealand
The red line shows our land travels in Gerty, the old, tubby, campervan we owned in 2011. The blue line shows our sailing trip around the country in 2012. Whatever mode of transportation you choose, New Zealand is a magnificent country for adventures!
.